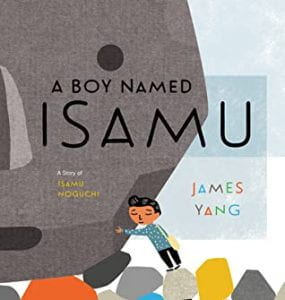 Yang, James. A Boy Named Isamu: A Story of Isamu Noguchi. Viking, 2021. 978-0-593-20344-6. Unpaged. $17.99. Grades K-3.
Author/illustrator Yang introduces readers to a quiet, introverted boy named Isamu. Born to an American mother and Japanese father, Isamu was an outsider in both cultures, alone, but never alone. Instead, Isamu found comfort in nature, fascinated by the color, shape, texture, and pattern he found all around him. Stones were particularly special. A day spent in the company of the trees, the sand, the rocks, and the sea was a day well spent. This observant, thoughtful boy grows up to be a renowned sculptor, combining geometric shapes and natural elements like granite into stunning artwork. This stunning, Caldecott honor book gives readers a moment in the life of Isamu Noguchi, perhaps the day he became captivated by the elemental world around him. An author's note gives further details into Noguchi's life as a sculptor. The digital artwork enhances the gentle feel of the narrative, emphasizing Noguchi's delight in being alone with nature.
THOUGHTS: The beautiful text and illustrations will send readers to learn more about this fascinating artist.
Picture Book           Nancy Nadig, Penn Manor SD
Biography