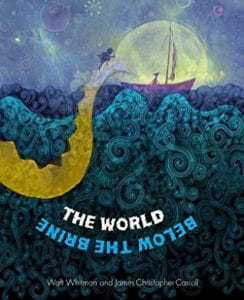 Whitman, Walt. The World below the Brine. Creative Editions, 2021. 32 p. 978-1-568-46361-2. $18.99. Grades 4-6.
This picture book is a beautiful iteration of Whitman's poem from Leaves of Grass. In just one stanza, the poet directs the reader's attention to the wonderful and varied life under the salty sea. Whitman begins with a discussion of the plant life and how its many colors play with the light. Next are the "dumb swimmers," who appear sluggish as they crawl on the bottom, like the sea snail, or like jellyfish that "graze…suspended." The free verse poem ends with a catalog of better-known sea creatures, such as the shark, whale, and sting-ray. In the final lines, the poet observes that the world below the ocean does not differ much in its environment and society from the one above it. The verse comes alive with James Christopher Carroll's rich, luminescent illustrations which the publisher likens to the works of Marc Chagall. Done with mixed media, the stunning images create a surrealistic atmosphere in the text. The drawings depict the poem through the eyes of a boy, who dives into the ocean and is amazed at all that he sees and experiences. As he swims furiously to escape from the jaws of hungry predators, the boy is surprised at his marine rescuer and returns to his boat. Whitman's verses inspire us to open our eyes to the wonders of all worlds of our planet.
THOUGHTS: This is truly a remarkable rendition of Whitman's "The World below the Brine." The illustrations are Caldecott quality and readers will enjoy examining the drawings closely. This lyrical work is a great resource for poetry units. Highly recommended for elementary and middle school libraries.
811.3 Poetry          Denise Medwick, Retired, PSLA Member