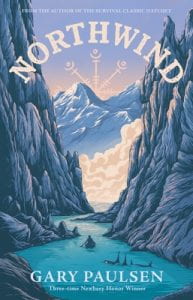 Paulsen, Gary. Northwind. Farrar, Straus, Giroux Books for Young Readers, 2022. 246 p. 978-0-374-31420-0. Grades 4-6. $17.99.
In his final book, Paulsen, the master craftsman of adventure fiction, has created another engaging survival story. Set along an unnamed northern coastline, this novel is reminiscent of Hatchet, but set hundreds of years earlier. Leif is a twelve year old orphan boy pressed into service as a mate on a seal hunting ship. Before the ship heads further north to find more seals, Leif and five others are left behind at a fish camp to catch and smoke salmon for the return voyage. Instead of their own ship, a vessel full of men dying from cholera appears and contaminates the camp, leaving Leif as the sole survivor of the deadly illness. Remembering the words of his deceased mentor, Old Carl, the boy heads north in a canoe and his first task is to find a burial site for Little Carl, another child from the ship. After nearly being ambushed by a bear, Leif quickly learns that he needs to develop skills in order to survive. After honing his abilities catching fish, making fires, and cooking, he begins to carve a storyboard that tells the story of his many adventures, which draws him closer to the mother he never knew. Leif observes a pod of orcas hunting for salmon, which leads to a frenzied battle between the ravens and eagles for leftovers. He is amazed by the beauty of the glaciers and the whale feeding dance in the bay. The boy nearly drowns in a whirlpool, but later is able to overcome strong waves by observing some dolphins. Soon Leif realizes that he is no longer the orphan boy that he was. His world, once confined to the bowels of a ship, has enlarged and he feels joy about exploring it more before returning to the world of man. In the author's note, Paulsen explains that the novel's coastline is based on his own experiences sailing up the California coast as well as in the fjords of Norway.
THOUGHTS: The detailed descriptions of the setting and Leif's actions put readers into an immersive experience of the sights and sounds of a whales' feeding frenzy, a menacing whirlpool, calving glaciers, friendly dolphins, and more. This page turner will appeal to fans of Gary Paulsen and to any reader who enjoys a book with a lot of action. This is an essential purchase for all elementary and middle school libraries.
Adventure Fiction          Denise Medwick, Retired, PSLA Member