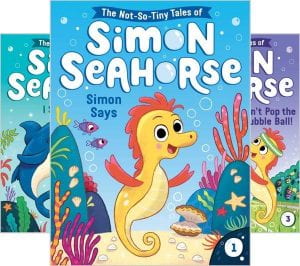 Reef, Cora. The Not-So-Tiny Tales of Simon Seahorse. Little Simon, 2021. $17.99 ea. 118 p. Grades K-3. 
Simon Says. 978-1-665-90368-4.
I Spy…a Shark! 978-1-665-90371-4.
Don't Pop the Bubble Ball! 978-1-665-90374-5.
This new chapter book series for elementary readers features ocean dwelling protagonist Simon Seahorse. Simon lives with his family (Dad, Mom, and 11 brothers and sisters) near the ocean town of Coral Grove. When not attending Coral Grove Elementary, he enjoys hanging out with his best friend Olive Octopus, telling stories and going on adventures. In Simon Says, Simon takes one of his treasured possessions, a lucky pearl, with him to school for "sea and tell." Naturally, being a storyteller, he enjoys embellishing the story of his pearl a bit when it's his turn. After he arrives home from school, he realizes that the pearl has gone missing! Together with his friend Olive, and some help from Mr. Green, the turtle trolley, he goes on a journey to Shipwreck Station (aka the ocean's lost and found) in the hopes of locating his pearl. In I Spy…a Shark!, Simon and his friends are afraid of sharks (they're worried about being eaten). So, when Simon and Olive spy a shark while working on a school project in Coral Jungle, they are understandably frightened. But Zelda the shark doesn't want to eat them; she is there to pick a bouquet of coral for her mother's birthday. Simon and Olive help her choose the best coral for her bouquet and in return she invites them to Shark Point to attend her mother's birthday party. As a result, they have another amazing story to tell their classmates. The text in each volume is accompanied by digital B&W illustrations on each page.
THOUGHTS: This early chapter series is sure to be popular with readers. Though Simon is a seahorse, many of the situations he finds himself in will be relatable to elementary students. After all, who hasn't panicked when they think they have lost a treasured possession? Or realized that the preconceived ideas they had about someone were incorrect? 
Early Chapter Book          Elizabeth Henry, Lampeter-Strasburg SD