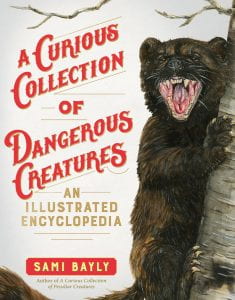 Bayly, Sami. A Curious Collection of Dangerous Creatures. The Experiment, 2021. 978-1-615-19824-5. 125 p. $18.95. Grades 3-8. 
Dangerous…it's a word that evokes feelings of fear and terror in many individuals. While animals considered or called dangerous can pose some level of threats to humans, they are often misunderstood. Author and illustrator Sami Bayly spotlights some of these creatures and explores how they have adapted to ward off predators with amazing (and yes, dangerous) defense mechanisms. For example, the greater slow loris (a small, tree-dwelling primate native to some countries in Asia), produces toxins in its elbow glands. If you see it licking its armpit/elbow area, watch out! It's collecting venom that mixes with saliva to create a toxic bite. The geography cone snail lives near coral reefs in the Pacific. From the outside, it looks like a beautiful seashell, but inside lives the world's most venomous sea snail. One shot of the snail's venom can kill up to 15 people! These are just two of the 60 creatures profiled in this engaging title. Each entry defines the danger profile for the animal, as well as identifying their habitat, eating habits and conservation status. Particularly noteworthy are Byly's illustrations. Trained as a natural history illustrator, her detailed watercolor paintings are true works of art and bring the animals to life.
Note: A Curious Collection of Dangerous Creatures was previously published in Australia under the title The Illustrated Encyclopaedia of Dangerous Animals.
THOUGHTS: This fantastic title will give readers a new appreciation and respect for the ways animals have adapted to survive. Ideal for casual browsers or researchers, readers will find themselves engrossed by the interesting facts presented about each animal and the detailed illustrations. 
591.6 Animals          Elizabeth Henry, Lampeter-Strasburg SD