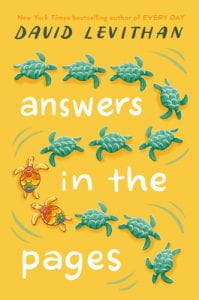 Levithan, David. Answers in the Pages. Alfred A. Knopf Books for Young Readers, 2022. 176 p. 978-0-593-48468-5. Grades 4-8. $17.99.
"At that moment Rick knew just how deeply he loved Oliver, and Oliver knew just how deeply he loved Rick…" One's interpretation of a single statement can make all the difference. The statement itself might be less noticeable depending on where it is seen or heard and the surrounding context. When the The Adventurers, a book being read by Donovan's fifth grade class, is picked up at home by his mother, she decides it is inappropriate for him to read. It doesn't take her long to get on the phone with Donovan's friends' moms either and schedule a meeting with the school. Donovan only read the first few pages in class but can't see what his mom would think is wrong about a book where kids go on adventures. Before he returns to class without his copy of The Adventurers (because his mom hasn't returned it), Donovan stops by the school library to get a copy so he can see what's "so bad." Because his mom drew so much attention to the book, several classmates have finished reading and the kids have honest, open discussions with each other and their teacher Mr. Howe who is openly gay. Told in short, alternating chapters, Donovan's story unfolds; alongside Gideon's, another elementary school-aged boy; and Rick and Oliver's, the characters from the book being challenged. Readers will see what happens when a book's content is challenged – how it impacts the teacher, the students, and families who may not agree with each other.

THOUGHTS: Timely and full of heart, Answers in the Pages is a book that should be in every upper elementary and middle school library! Highly recommended for readers who will be able to follow three separate narratives.

Realistic Fiction          Maryalice Bond, South Middleton SD

Donovan really enjoys his English class, mostly because of his teacher. When his teacher assigns a book called The Adventurers, Donovan is looking forward to reading it. However, after leaving it out on the kitchen counter one day, he discovers that his mother has read the book – and decides to launch a book challenge. Donovan's mother interprets the last line of the book to mean that the two male main characters are gay, and she takes issue with this. Donovan finds himself in the middle of a fight that polarizes the school community and pits him against both his favorite English teacher and his mother. Donovan has to examine his own beliefs and decide what he thinks is right, even if it means upsetting someone he cares about. Aside from the main thread of this story, there are two other stories interwoven throughout the book. One is of Gideon and Roberto who are paired up for a school project and develop feelings for each other; the other is about Rick and Oliver, the main characters in the very book Donovan's mom is challenging. All three stories connect together at the end.
THOUGHTS: With curricular book challenges at an all-time high, Leviathan's timely book provides a window for students who might be facing the same complicated situations in their own homes.  Leviathan writes from experience as many of his own books have been challenged in schools across the country. All librarians, teachers, parents, politicians, and school board members should read this book. Answers in the Pages is a must-buy for all middle grade libraries.
Realistic Fiction           Danielle Corrao, Manheim Central SD