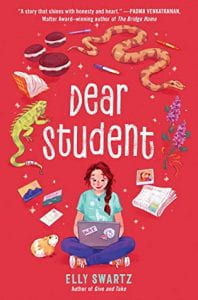 Swartz, Elly. Dear Student. Delacorte Press, 2022. 978-0-593-37412-2. $16.99. 293 p. Grades 6-8.
Starting middle school is difficult for most students, but for sixth-grader Autumn Blake, it's a lonely, anxious time not only because her friend Prisha has moved to California but also because her father has decided to "seize the day" and grant his lifelong wish to help others by joining the Peace Corps in Ecuador. Now, Autumn, her mom, and her little sister, Pickles, have to move to the apartment above her mother's veterinary practice, and Autumn has more responsibilities to help with her sister, their home, and the practice. Though she feels like a misfit at school, she responds to her father's daily advice to challenge herself and applies for the position as the advice columnist for the school newspaper, The Daily Express. As she awaits the decision on the newspaper slot, Autumn is surprised by the attention from popular, confident classmate, Logan. Selected as the anonymous advice columnist, Autumn reveals that under her awkward and self-conscious exterior lies an insightful and wise counselor. She even winds up giving advice to Logan and learning about her new friend's hidden insecurities and needs. Autumn also balances this friendship with Cooper, a newcomer to her small community, whom Logan says is weird. When she responds to a disturbing accusation about Beautiful You, a cosmetic business in her community that has provided jobs for many, including Cooper's mother, her reply sparks controversy around suspected animal testing; and when word leaks out that Autumn is the one dispensing advice, both Logan and Cooper turn against her. To make matters worse, her fantasy about her dad returning home for her birthday fizzles. Ultimately, Autumn realizes she is strong enough to grab hold of her Fearless Fred –a nod to a family story–and summon the courage to do what is hard to make things right. The premise of the friendly advice columnist being the introverted character has been done in Lifetime movies, but Elly Schwarz's middle school take on it is refreshing and unique. Hard to tell what race the characters are, but both Logan and Autumn are white; Autumn refers several times to her Jewish religion.
THOUGHTS: Give this book to the shy student, the one who travels under the radar whom you suspect has something valuable to say. This book may be a good springboard for Social Emotional Learning–after all, Autumn is providing advice and the situations in which she finds herself can be good What if? examples. What if a parent chooses to go away for a long time? What if you need to move because your family's financial situation changes? What if you are given more responsibilities? What if you make presumptions about how you impress people and how other people appear to you? What if you need to take a stand about something you really believe in and a friend disagrees? What if a situation arises where you need to speak up? Autumn Blake, with her complicated feelings and struggle for confidence, is a character middle school students would like to meet.
Realistic Fiction          Bernadette Cooke, School District of Philadelphia