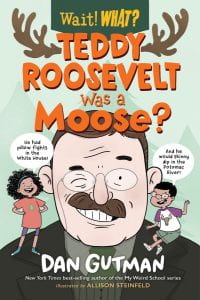 Gutman, Dan. Wait! What? Teddy Roosevelt Was a Moose? Norton Young Readers.  978-1-324-01564-2. 106 p. $16.95. Gr 3-5. 
Brother and sister duo Paige and Turner narrate this anything-but-ordinary biography of Teddy Roosevelt. Roosevelt was America's 26th President, but he is also remembered for his love of animals, his interest in conservation, his hearty appetite, his love of fierce competition, and much, much more. This highly conversational biography includes spot illustrations on almost every page as well as headshots of Paige and Turner, so readers always can tell who is narrating. The siblings talk readers through each stage of Roosevelt's life in different chapters, highlighting important events from his childhood, presidency, and post-presidency. In addition to traditional, expected facts, they also detail surprising tidbits, such as how he ran his own "Roosevelt Museum of Natural History" when he was a boy and how he enjoyed skinnydipping in the Potomac River. He also is credited for making football a safer sport, for reading a book a day, and for writing textbooks for the US Navy.
THOUGHTS: Hand this title, and others in the "Wait! What?" series, to fans of the "Who Was" biographies and to students who are interested in trivia and off-beat humor.
Biography          Anne Bozievich, Southern York County SD