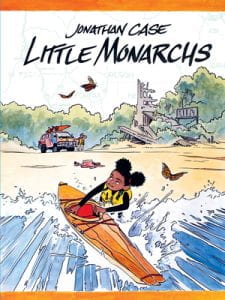 Case, Jonathan. Little Monarchs. Margaret Ferguson Books, 2022. 978-0-823-44260-7. $22.99. 255 p. Grades 5-8.
African-American, ten-year-old Elvie cruises around a post-apocalyptic world of 2101 in a dilapidated van with her white, twenty-something caregiver, Flora. The world's population has decreased to a mere 7,000 due to sun sickness; the sun hovers dangerously close to the Earth, and many of the inhabitants have retreated under the ground, the Deepers. The sole way Elvie and Flora can survive in the daytime is because biologist Flora has created a serum from the scales of monarch butterflies. Shortly after Elvie's birth, her parents traveled to Michoacan, Mexico, to pursue the migration of the monarchs and further Flora's discovery. Since the deaths of Elvie's grandparents, Flora has protected Elvie and schooled her in both survival skills and nature. Since the serum only lasts for a brief time, Flora is determined to find a vaccine. The pair are following the migration route of the monarchs up and down the west coast, searching for sufficient material to do so. As they wind their way to Michoacan, hoping for the survival of Elvie's parents, they cope with natural disasters and get caught up with sinister Deepers who want to thwart Flora's pursuit. Though very young, Elvie's unusual upbringing makes her an environmental expert and fearless explorer who emerges a clever and unflappable hero. Part graphic novel, part naturalist notebook, Little Monarchs boasts of colorful and clear illustrations with a compelling, if unusual, plot. 
THOUGHTS: Given the insatiable thirst for graphic novels, Little Monarchs proves itself to be a worthy contender. The storyline is clear and different and has the bonus of being extremely informative. Through Elvira's system of writing facts in red, readers can learn about the monarchs' migration and other habits, edible plants, characteristics of frogs, and types of knots, among other secrets of nature and survival. Different frames contain the geographical coordinates. This title sparks discussion of future results of climate change as well as an interest in survival skills, geography, and map skills. 
Graphic Novel          Bernadette Cooke, School District of Philadelphia
Science Fiction