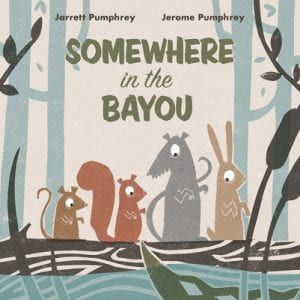 Pumphrey, Jarrett, and Jerome Pumphrey. Somewhere in the Bayou. Norton Young Readers. 978-1-324-01593-2. 48 p. $17.95. Grades K-3. 
One day, an opossum, a squirrel, a rabbit, and a mouse are out for a walk in the bayou. They're looking for a place to cross the river when they spot a tail poking up out of the water near a floating log. Rabbit notes that it's a scary tail, but opossum isn't deterred. He tiptoes across the log, but the tail sweeps him into the river. Then, the animals note it's a scary tail. Squirrel tries to show his bravery and cross, but he too is swept into the current. Rabbit decides it is a mean tail and pokes it with a stick before he is knocked in the water too. Only Mouse is left, and he tries a different approach. He asks whose tail it is, and these polite words, combined with a kind deed, lead to an unexpected outcome. The entire story is depicted in animals' speech bubbles and bold, graphic block print illustrations. 
THOUGHTS: This laugh-out-loud title bursts with creativity, but the underlying message about not jumping to conclusions or making snap judgements will be an important conversation starter. In their author biography, the brothers and co-authors note that the idea for this story began with a conversation about assumptions and implicit bias, so these may be topics to touch on as well, perhaps if this title is shared during a classroom Morning Meeting. 
Picture Book          Anne Bozievich, Southern York County SD