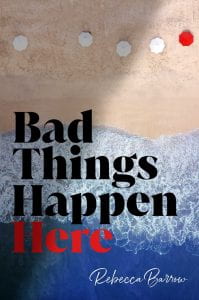 Barrow, Rebecca. Bad Things Happen Here. Margaret K. McElderry Books, 2022. 978-1-534-49743-6. 352 p. $16.99. Grades 9-12.
Luca Thomas has lived on Parris Island her whole life – an island that seems like the ideal place to grow up. But Luca knows the truth: The island is scattered with unexplained tragedies. Rumors shroud the community that the island is cursed. Three years ago, Luca's best friend, Polly, was killed. Now a new girl has moved into Polly's house. Immediately, Luca's older sister, Whitney, goes missing after a wild party. Is this the curse once again? What is happening on this island?
THOUGHTS: The book has drinking and sexual situations thus being more appropriate for older students. With fast-paced, short chapters, readers will be hooked. The ending was a bit of a mystery; though, this is not necessarily a bad thing. Could hint to a sequel.
Mystery          Victoria Dziewulski, Plum Borough SD