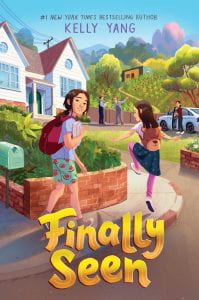 Yang, Kelly. Finally Seen. Simon & Schuster Books for Young Readers, 2023. 978-1-534-48833-5. unpaged. $17.99. Grades 3-7.
When her parents emigrated to the United States with her young sister Millie, Lena Gao stayed behind in the "waiting city" of Beijing with her beloved lao lao (grandmother). In the opening pages of Finally Seen, Lena is on a flight to Los Angeles to be reunited with her family! But five years is a long time, and Lena has a lot to learn about her own family, not to mention the English language and American culture. Lena quickly realizes that nothing has been perfect for her parents in California either. Her dad works very long hours on an organic farm, back rent will be due in a few short months when COVID-19 rent relief expires, and their green cards are hung up in red tape. To make ends meet, Mom and Millie make bath bombs to sell on Etsy, and Lena happily joins in the family business. At school, Lena begins to learn English with the help of an empathetic ELL teacher and Flea Shop, a graphic novel that offers Lena a mirror of her own life. But Lena's joy at being "finally seen" in a book also finds her caught in the midst of a culture war over what books are appropriate for students to read. 
THOUGHTS: Kelly Yang delivers another charming and relatable middle grade novel rooted in the real experiences of so many young people in the United States and beyond. Her Author's Note describes the impact of attempts to ban her novel Front Desk, and her steadfast belief in the freedom to read books that offer windows, mirrors, and sliding doors.
Realistic Fiction