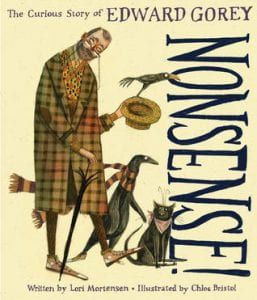 Mortensen, Lori. Nonsense! The Curious Story of Edward Gorey. Houghton Mifflin Harcourt, 2020. 978-0-358-03368-4. Unpaged. $17.99. K-3.
Edward Gorey was an unconventional, eccentric author and illustrator who was known for his dark, bizarre work. This illustrated biography details his life from his childhood through his young adulthood (he served in the army and later attended Harvard) and his subsequent career. The lyrical prose is complemented by sketchy illustrations that are reminiscent of Gorey's own work. An intriguing and well-written account of Gorey's life, this book provides an excellent introduction to the subject while simultaneously inspiring readers to learn more about him.
THOUGHTS: If I'm being honest, I had no idea who Edward Gorey was before I read this biography. However, after reading this narrative, I am somewhat fascinated! The book ends with an author's note about Edward Gorey, stating that his style lives on through works like Lemony Snicket's A Series of Unfortunate Events, Tim Burton's The Nightmare Before Christmas and Neil Gaiman's Coraline. This title would be perfect to pair with one of those works, or even with one of Gorey's own works. It would be a stellar addition to classroom libraries and/or elementary nonfiction collections.
Picture Book          Julie Ritter, PSLA Member