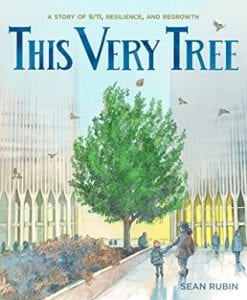 Rubin, Sean. This Very Tree: A Story of 9/11, Resilience, and Regrowth. Henry Holt and Company, 2021. 978-1-250-78850-4 p. 48. $18.99. Grades K-4. 
This is a story about a tree, a survivor tree, to be accurate. But, it is also a story about the resilience of our nation, a tribute to first responders, and the restorative power of humanity. This Very Tree: A Story of 9/11, Resilience, and Regrowth by Sean Rubin is profoundly moving and packs an emotional punch. A Callery pear tree was planted in the 1970's in New York City between the newly constructed Twin Towers known as the World Trade Center. Over the years, the tree provided shade for tourists, employees of the World Trade Center, and a home for birds. It bloomed beautifully every Spring and stood tall between the two towers for many years. On September 11, 2001, something horrific occurred in New York City. Our Nation was mourning, and the tree's home was destroyed and buried under rubble. The days that followed were difficult to maneuver, yet a shocking discovery was made after the tragedy–The pear tree had survived and quickly became known as the "Survivor Tree." The tree was moved to the Bronx to recover, so the New York City Department of Parks and Recreation could nurse it back to health. Finally, almost ten years after the tragedy, the tree returned to its home and was planted in the 9/11 memorial. This Very Tree is told in simple words and illustrated with beautiful pictures that reveal more and more as the reader turns the pages. It shares a story of hope and healing that occurred after an immense tragedy that we experienced as a country. This book is a powerful introduction to this poignant event in our nation's history. 
THOUGHTS: It's hard to believe that 20 years have passed since New York City saw the World Trade Center fall to the ground. Since then, we have seen the literary world write to make sense of that horrific day and the days after that. This particular story, This Very Tree, resonated with me in such a profoundly moving way, and it shares a true story that may not be known to most Americans. Even the dedication will bring tears to the reader's eyes as well as the hauntingly beautiful words written by author E.B. White in 1949 entitled: Here is New York that is at the beginning of the picture book. As much as this book is indeed emotional and heavy, it can still shine a light on hope and resilience. There is an informational section in the author's note that explains the events of 9/11 in a sensitive and age-appropriate way. 
Picture Book          Marie Mengel, Reading SD