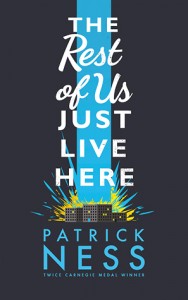 Ness, Patrick. The Rest of Us Just Live Here.  New York: Harper Teen, 2015.  978-0-06-240316-2.  $17.99. 317p. Gr. 9 and up.
Life is what it should be for Mike Mitchell and his friends as they enter the final weeks of their senior year.  Mike is preparing to go away to college in a different state despite his increasing OCD loops where he gets caught doing the same thing over and over (and over).  His sister, Mel, seems to have her eating disorder under control as she heads to the East Coast to start the pre-med track in college, and their mom is launching her campaign for a spot in the US Congress.  Work.  Prom. Graduation.  Everything is as normal as can be, except for the one strange occurrence that keeps happening: the"indie kids" keep inexplicably dying (You know the ones with the black-rimmed glasses and the names straight out of the 1950's, Finn and Dylan and Satchel and about three other Finns).  The Rest of Us Just Live Here is the story of the non-indie kids living everyday life, mixed in with the indie kids saving the world….again.  THOUGHTS:  The issues are real, but so is the hope that gets this group of tight-knit friends through the rough times.  I love the indie kid parts mocking current dystopian/fantasy young adult fiction.  
Realistic Fantasy    Laura Ward, Fox Chapel Area High School
Heaberlin, Julia. Black-Eyed Susans. New York: Ballantine Books, 2015. 978-0-8041-7799-3. 354 p. $17.99. Gr. 10 and up.
When Tessie was sixteen, she was abducted and then left for dead in a field of black-eyed susans along with the remains of the killer's other victims. Despite some substantial gaps in her memory, Tessie testified against Terrell Darcy Goodwin, who was sentenced to Death Row. Now, Tessa is a single mother in her 30s with a teenage daughter of her own. Terrell's execution is just months away when someone plants a bed of black-eyed susans outside her bedroom window. Afraid that her "monster" is still at large, and still watching her, Tessa becomes involved in the legal effort to exonerate Terrell. But the clock is ticking, and Tessa still can't trust her own memories. Chapters alternate between 16-year old Tessie and present-day Tessa, giving the book solid crossover appeal. A subplot about the role of Lydia (Tessie's BFF) in the Black-Eyed Susan case also gathers dangerous momentum as the two narratives converge. THOUGHTS: This adult thriller is an edge-of-your seat mystery with TONS of appeal for teen readers!
Mystery            Amy V. Pickett, Ridley High School
I've recently scheduled some booktalks with upperclassmen, and Black-Eyed Susans is a wonderful example of a crossover that I can promote to mature and/or avid teen readers. The novel is a delight to booktalk because it has so many great hooks to snag readers' interest: the abduction of a young girl, the ticking clock as a (possibly) innocent man faces execution, and even some romance. After the first booktalk, students were lining up to get their hands on the book!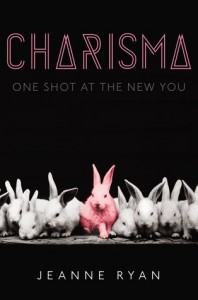 Ryan, Jeanne. Charisma. New York: Dial Books, 2015. 978-0-8037-3966-6. 374p. $17.99. Gr. 7 and up.
Are you shy?  Do you have trouble volunteering in class or speaking to boys?  Aislyn has terrible shyness.  When presented with a gene therapy drug called Charisma, she takes it.  It's not exactly approved by the FDA yet… but it works like magic!  She can speak up; she has confidence and is even comfortable around her crush.  This drug not only eliminates her shyness, it makes her extremely outgoing.  Her bubbly new personality is completely opposite of her old self. Aislyn discovers that some of her friends have taken the drug too, when some of them start getting deathly ill.  The media is in a frenzy, and the doctor who gave them Charisma is gone. The quick personality fix has turned horribly wrong.  THOUGHTS: This story was very interesting and current, with the topic of gene therapy- going from being something helpful to completely unethical, and the topic of social anxiety- a more common problem than most would think. I loved that the basic theme of the story was that there are no quick fixes and if you want to change, you need to work on changing yourself, not falling for the Charisma pill.  
Science Fiction      Rachel Gutzler, Wilson High School