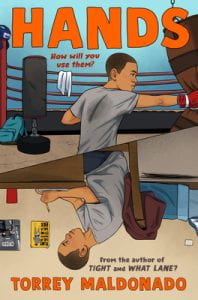 Maldonado, Torrey. Hands. Nancy Paulsen Books, 2023. 978-0-593-32379-3.135 p. $16.99. Grades 3-7.
Trevor's mother calls him a "gentle giant" because he's tall and sweet and would rather use his hands to draw than punch someone. When his stepfather goes to jail for using his hands to strike Trev's mother, the twelve-year-old believes he needs to learn how to fight to protect his two older sisters and his mother when his stepfather's incarceration ends. Both his teachers, friends, and relatives constantly tell Trev he has promise and can educate himself, move away from their sometimes dangerous neighborhood, and provide for his family. Haunted by the thought of his stepdad's re-entry into their lives, Trev and his new pal, P, visit the gym to find someone who will teach them to box. Trev meets a dead-end, though, when the trainer he approaches turns out to be one of his many "uncles" who pledged to his deceased blood Uncle Lou that they would keep Trev on the straight and narrow. Faithful to his family and its private information, Trev holds back on telling P the real reason he wants to box. When his sister's sleazy boyfriend gets rough for her, Trev shows his strength by punching his fist through a window. This action brings out the negative consequences of violent actions, and makes his life choices even more confusing. As the time of his stepfather's release grows closer and Trev grows more troubled, he does seek out the advice of his other "uncles" like Uncle Larry, who is a librarian and has a Harry Potter-esque apartment filled with books, and his kind teacher, Ms. Clarke. Like Torrey Maldonado's other books, Hands is written as Trev would speak and touches on real-life, ethical dilemmas facing kids who live in marginalized areas that can be equally warm and caring and edgy and menacing. This slim book is only slightly didactic, which can be overlooked when the characters and situation ring true, and the ending does not offer a pat solution.
THOUGHTS: Hands deals with domestic abuse but in a way that even younger readers can handle. The stepdad uses verbal abuse because he feels Trev is too "soft," and Trev witnesses him hitting his mother. The rest of the stepfather's behavior is told in dialogue with his older sisters. Like other characters in Maldonado's books, Trev is a good kid with a sensitive conscience and supportive family. He grapples with his conviction that violence is not the answer and his obligation to protect his family. Lessons on decision making can be discussed using Hands. The narration is as Trev would actually speak, yet Maldonado does keep grammar and syntax intact. Mentorship, kindness, and art as self-expression are all important pieces of this book. The author uses many contemporary references that will appeal to the readers. A good read aloud.
Realistic Fiction