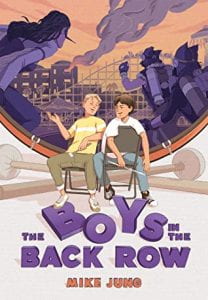 Jung, Mike. The Boys in the Back Row. Levine Querido, 2020. 978-1-646-14011-4. 264 p. $17.99. Grades 4-7.
Matt and Eric have been best friends forever. They are both marching band nerds, both fans of comics by artist Jonah Burns, and both are targets of bully Kenny and his side-kick Sean. When Eric learns his family will be moving at the end of the school year, the pair plan one epic last adventure. While the school marching band is on a trip to World of Amazement amusement park, Eric and Matt will sneak out to nearby DefenderCon and meet their idol, Jonah Burns. But when Sean gets wind of their plans, and inexplicably wants to join the friends, they are confounded as to how to proceed. The book uniquely highlights friendship between tween boys. The pair are openly fond of each other, but are tired being labeled gay. Matt is also called gay for playing the flute. (Neither is gay, but they do not consider it an insult). A secondary theme involves racism against Asian students such as Matt. Kenny, the chief proponent of both racism and homophobia, seems to harbor an attraction for a male, Asian band member, providing some insight into his troubled personality. While the racist theme can become heavy-handed, the exuberant friendship of the boys more than carries the book. Matt is Asian, Eric and Kenny are white, with minor characters who are a variety of ethnicities, particularly Asian.
THOUGHTS: This book should be a first purchase for middle grade collections. Stories showing kind, thoughtful male relationships are too rare.
Realistic Fiction          Nancy Nadig, Penn Manor SD