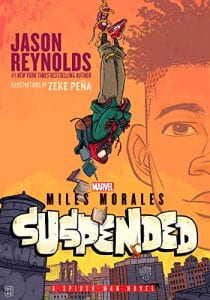 Reynolds, Jason. Miles Morales Suspended: A Spider-Man Novel. Atheneum, 2023. 978-1-665-91846-6. 303 p. $19.99. Grades 7-12.
Miles Morales, a teen hiding secret spider super-man powers, uncovers a villainous plot after he receives in-school-suspension (ISS) at his school, Brooklyn Visions Academy. After a blow-up with a racist teacher, Miles is set to serve his ISS day quietly by completing a large packet of work from each of his teachers. As the day progresses, Miles begins to notice there is something a little 'off' in the ISS room—and something weird going on with one of his classmates, Tobin. Tobin is in trouble for stealing (and allegedly eating) library books. His 'spidey-sense' keeps prickling, and Miles is not quite sure why. Then, Miles thinks he sees a termite crawl across Tobin's desk…and directly into his ear. Miles ultimately discovers that Tobin is part of a larger plot. Miles must face off against this enemy in order to restore justice—and the freedom to read.
THOUGHTS: Jason Reynolds masterfully weaves together verse and prose to create a layered, complex novel; Suspended could be read and enjoyed by a middle schooler right up to a senior in high school. Reynolds keeps Spider-man cool and relevant to 2023; the book tackles topics of school library censorship and contains social justice themes while still including all of the elements of a classic superhero story. Miles himself is a realistic and nuanced character who grapples with familial and cultural identity, seeing patterns, and understanding consequences. Although this book is technically a sequel to Miles Morales, Spider-man (2018), readers can enjoy Suspended on its own as well.
Fantasy