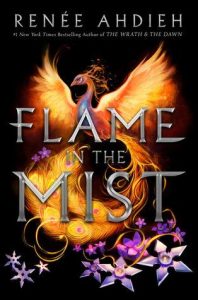 Ahdieh, Renée. Flame in the Mist. New York: G.P. Putnam's Sons, 2017. 978-0-3991-7153-5. 392 p. $17.99. Gr. 7+.
Hattori Mariko is a gifted samarai and skilled alchemist, but none of that matters since she was born a girl. Unlike her warrior brother Kenshin, Mariko has been raised to serve her family in marriage and has been betrothed to the son of the Emperor. On her journey to the Imperial Palace, her caravan is attacked by members of the Black Clan, and Mariko only barely escapes with her life. Determined to discover who sent the infamous Clan to kill her, Mariko dresses as a peasant boy and infiltrates the group. As she sinks deeper into their ranks, Mariko finds her intellect and skills appreciated for the first time in her life and also finds herself falling in love, and begins to question her family, her purpose and her country. THOUGHTS: A nice addition to any Young Adult collection. Teens will relate to Mariko's conflicted choices and get lost in the excellent world-building and storytelling.
Fantasy     Vicki Schwoebel, Friends' Central School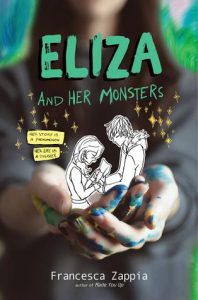 Zappia, Francesca. Eliza and Her Monsters. New York: Harper Collins, 2017. 978-0-06-229013-7. 400 p. $17.99. Gr. 7 and up.
Fans of Rainbow Rowell's Fangirl who have been looking for a follow-up, look no further!  Eliza and Her Monsters, by Francesca Zappia, is a perfect pairing. Eliza has a huge secret; she is the author and creator of the webcomic Monstrous Sea.  Since she is only known as LadyConstellation online nobody knows her true identity.  While she is an internet superstar, her offline life is less than ideal. Eliza feels beleaguered and misunderstood by her classmates, and her parents, who are baffled by her ties to her "fake" internet friends, and her desire to spend all of her time on her phone or computer. Then hulking, football player-looking Wallace comes into her life.  Wallace, who inexplicably and shockingly is a huge fan of Monstrous Sea, writes his own stellar fanfic too; a more unlikely pair you won't find.  The slow build up of their friendship is well done; there is some skeptical orbiting, followed by cautious interaction, and eventually, full-fledged trust.  However, when Eliza's secret is exposed her entire world comes crashing spectacularly down around her. THOUGHTS: Even if you're not into webcomics or fandom, Eliza is a relatable character; her love of her digital community, her desire to spend all of her time with her friends, and her mixed feelings for her parents and siblings are all things that teens will identify with.
Realistic Fiction     Lauren Friedman-Way, The Baldwin School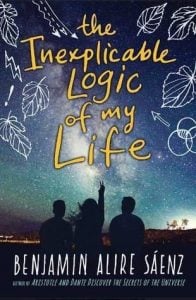 Saenz, Benjamin Alire. The Inexplicable Logic of My Life. New York: Clarion Books, 2017. 978-0-544-58650-5. 464 p. $17.99. Gr. 9 and up.
The Inexplicable Logic of My Life, Benjamin Alire Saenz's follow-up book to Aristotle and Dante Discover the Secrets of the Universe, is just as brilliant, beautiful, and heartwarming/wrenching. Sal never thought of himself as an angry kid.  And yet, here he is, getting into fight after fight for no real reason and hating himself because of it; Sal can't help but wonder if he's more like his biological father than he thought. As in Aristotle, parents and adults play a major role throughout the book.  Both Sal and his best friend, Samantha, are molded by their parents. Even though Sal has been raised by a steady, kind hearted, loving adoptive father, Vicente, a man who fully embraces the idea of turning the other cheek, he fears that, ultimately, his character will be shaped by the temperamental, unstable father he never knew. The matriarchs, Sal's terminally ill grandmother, his deceased mother, and Samantha's mother, also get a starring role here. This novel highlights in ways no other YA book in recent memory has just how powerful and pivotal adult-child relationships are and addresses head on the age old question of nature vs. nurture. Another powerhouse of a novel from Saenz. THOUGHTS: The platonic friendship between Sal and Samantha is a refreshing change from the best-friend-to-boyfriend/girlfriend trope in many contemporary YA books.
Realistic Fiction      Lauren Friedman-Way, The Baldwin School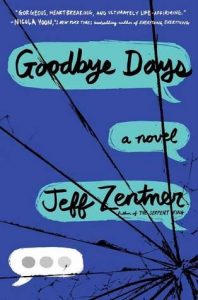 Zentner, Jeff. Goodbye Days. Crown, 2017. 978-0-553-52406-2. 404 pp. $17.99. Gr. 9-12.
"Where are you guys? Text me back." This seemingly unremarkable text from Carver Briggs to his three best friends may have precipitated the car crash that killed Blake, Eli, and Mars. Now the fourth member of their "Sauce Crew" must face both senior year at Nashville Arts Academy without his closest friends and a potential criminal charge of negligent homicide. Some of his classmates sympathize with Carver, and others (including Eli's twin sister) blame him for the tragedy. Carver finds solace in the company of Eli's former girlfriend, Jesmyn, even though part of him feels like he's betraying Eli by growing closer with her. Meanwhile, Blake's grandmother invites Carver to spend a "goodbye day" with her doing all the things that Blake loved best. As guilt, panic attacks, blame, and legal fees threaten the stability of Carver's world he must find a way to make it through the goodbye days and go on living.   THOUGHTS: Zentner won the 2017 Morris Award for his debut, The Serpent King. In my opinion Goodbye Days is an even better book, with a stronger hook for booktalks and an emotionally resonant depiction of a hot-button issue. The richness of Nashville's arts scene and unique locales (including the iconic Ryman Auditorium and Parnassus Books) imbues every page and provides a wonderful backdrop to the story.
Realistic Fiction     Amy V. Pickett, Ridley School District
Zentner, Jeff. Goodbye Days. Crown Books for Young Readers, 2017. 978-0-553-52406-2. 405 p. $17.99. Gr. 10 and up.
Goodbye Days begins with Carver (aka Blade) attending the funerals of his three best friends, Mars, Eli, and Blake. Together, the four of them made up "Sauce Crew," and without them Carver is facing a long, lonely summer and a potential trial. Though his older sister Georgia is a much needed distraction, she has her own life at the University of Tennessee. After Carver suffers from a panic attack, Georgia helps Carver begin his healing by taking him to see therapist Dr. Mendez. It seems the only people that truly knew Carver were his now deceased friends. Readers are slowly introduced to each friend through flashbacks memories Carver shares. Carver and Eli's girlfriend Jesmyn sit together at one of the funerals and through their shared grief become friends. Over the course of the book, Carver is able to lean on Jesmyn and open up more about his friendships and his guilt. It is Blake's grandmother (who raised Blake) who presents the idea of a Goodbye Day to Carver. At first he isn't sure, but he eventually concedes. Together they share memories of Blake, learn things they didn't know about him, and truly begin the process of healing. Word of Carver's Goodbye Day spreads to the other families, and eventually he has very different Goodbye Days with each.  THOUGHTS: People who know me will tell you Goodbye Days is a book just for me. I find the heartbreaking books to be most compelling. Having lost a best friend in my mid-20's (to a terminal illness), I found the voice of Carver's grief to be very authentic. Readers will be torn between pulling for him in the pending legal mess and feeling frustrated or angry with the choice he made to text a friend who was driving. While Goodbye Days is part cautionary tale, it is more about consequences, grief, and moving on after loss.
Realistic Fiction       Maryalice Bond, South Middleton School District