McLain, Paula. Circling the Sun. New York: Ballantine Books, 2015. 978-0345534187. 384 p. $28.00. Gr. 11 and up.
Paula McLain has again brought to life an enigmatic and engaging woman. As she did in The Paris Wife with Hadley Richardson, McLain tackles the story of a remarkable young woman, whose entertaining and fantastic story was somewhat lost to history. Beryl (Clutterbuck) Markham moved to Kenya with her family when her father decided to begin a new venture as a horse farmer in British East Africa. The novel begins with Beryl watching her mother leave with Beryl's brother on the train to return to Britain, leaving Africa, and her daughter, behind. Beryl is raised by a series of governesses and then a stepmother, but also becomes close with the local tribe of natives. This nontraditional upbringing reflects in her independent lifestyle. She becomes first a horse trainer, the first female horse trainer in Kenya, and then takes on piloting as well. Though she mingles constantly with the upper class, she is not afraid of hard work and dedicates her life to achieving her many goals. Though there are very adult themes (Beryl's love triangle with Karen Blixen, author of Out of Africa, and Denys Finch Hatton permeates much of the novel, and sex is constantly discussed), her story will resonate with young adults, who will no doubt be captivated by her independent spirit. Beryl was truly a modern woman, who made her own decisions and led her life the way she wanted, defying the standard views of her time. THOUGHTS: This is a wonderful story to give to students interested in strong females who performed many firsts- while having fun along the way. Highly recommended.
Historical Fiction   Lindsey Myers, Shady Side Academy Senior School
I loved The Paris Wife, so I was eager to read McLain's newest novel. Her writing style is engrossing, and I quickly fell into the story of Beryl Markham. I was astounded by all that she went through and accomplished throughout her life. The scene in which Beryl survives a lion's attack is particularly captivating, and I was almost on the edge of my seat while reading the exciting text. McLain does an amazing job of highlighting and giving voice to this engaging woman, and I eagerly await her next venture.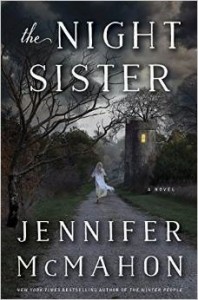 McMahon, Jennifer. The Night Sister. New York: Doubleday, 2015. 978-0-385-53851-0. 322p. $25.95. Gr. 10 and up.
The Night Sister by Jennifer McMahon will hold you spellbound as it unfolds across three interwoven timeframes. In the mid-1950s, beautiful Sylvie and awkward younger sister Rose are growing up at their family's Tower Motel in London, Vermont. In 1989, Rose's daughter Amy is twelve, living at the hotel and finding adventures with her neighbors, sisters Piper and Margot. That summer, the girls discover both a suitcase hidden inside the motel's iconic tower and the possibility of a secret 29th room. Then in 2013, a tragic event pulls the storylines together yet again. This is a spooky, multigenerational, maybe-ghost story that borrows elements from Alfred Hitchcock's Psycho and Vertigo, with a touch of gothic romance. For the most part the scares are subtle; the suspense builds slowly but surely with each page. The novel has some of my favorite components of a crossover read: a coming-of-age narrative, the transformative experience of adolescence, the lifelong reverberations of childhood female friendships, and the eventual cost of long-buried family secrets. THOUGHTS: With its ample appeal for teen readers, this adult horror novel is a MUST-READ for teenaged fans of the genre! I look forward to reading whatever Jennifer McMahon writes next!
Horror            Amy V. Pickett, Ridley High School