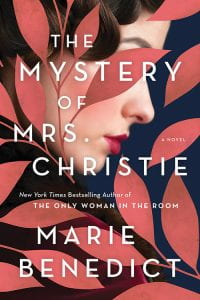 Benedict, Marie. The Mystery of Mrs. Christie. Sourcebooks, 2021. 978-1-4926-82721. 272 pp. $26.99. Grades 9 and up.
In 1926, Agatha Christie disappeared for eleven days. She left her husband, Archibald Christie, a letter detailing what he must do during her disappearance in order to get what he wants. If he does not follow her instructions precisely, he will lose everything. As Archibald tries to play his part as written, he becomes more overwhelmed with rage towards Agatha and the officers managing the search for her. But, he was not always like this. Told through alternating chapters, the development of and relationship between Archibald and Agatha grows from passionate and spontaneous to rigid, frustrating, and cruel. Agatha does not know how to care for her changed husband, yet she continues to put him before all else including their daughter. Through her work, Agatha finds escape and the ability to use her creativity to craft unsolvable mysteries and her own disappearance. 
THOUGHTS: The Mystery of Mrs. Christie is an adult novel with great YA crossover appeal. Any reader who loves Agatha Christie (still the best selling author outside of Shakespeare) and a true detective mystery will enjoy this historical fiction text. It is also a wonderful text for introducing further research about the period, Christie's actual disappearance, or further author studies.
Historical Fiction             Erin Bechdel, Beaver Area SD
Mystery