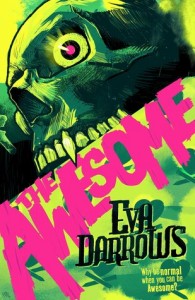 Darrows, Eva. The Awesome. Oxford, UK: Ravenstone, 2015. 978-1-78108-324-6. 246 p. $9.99. Gr. 9-12.
Seventeen-year-old Maggie Cunningham is not your typical teenager, but that's to be expected considering she is an apprentice monster hunter. Maggie wants one thing: to become federally registered so she can track and hunt vampires, but in order to do so, she has to lose her virginity. She has to lose the "Big V" to kill the "Big V". Her mother, Janice, tells her it is in order to protect her since most vampires, especially newbies, go wild for virgin blood. However, losing her virginity is easier said than done. Maggie is home schooled, lacks fashion sense, and well, she hunts monsters. It doesn't help that her mother swears like a sailor and tends to embarrass Maggie. For Maggie, getting The Sex seems almost impossible. She even fails in a hysterical attempt to have sex with a drunk guy at a party which leaves her vulnerable to a virgin blood crazed newbie vampire who tries to kill her, but is unsuccessful because her mother just happens to be a total badass. The killing of the young vampire leads Maggie and her mother to a vampire prince, which is definitely going to make getting deflowered more complicated. THOUGHTS: Filled with inappropriate language, a little bit of sex, violence, and an incredibly likeable heroine, The Awesome is a terrific supernatural comedy that is just plain fun. The Awesome is awesome. Be warned though, it's definitely only appropriate for upper grades.
Fantasy, Paranormal   Graig Henshaw, Littlestown HS/ Maple Avenue MS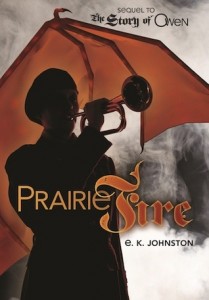 Johnston, E.K. Prairie Fire. Minneapolis, MN: Carolrhoda Lab, 2015. 978-1-46773-909-2. 298 p. $18.99. Gr. 7-12
Prairie Fire is the sequel to The Story of Owen and continues the story of Siobhan McQuaid, bard and genius, Owen, and their friends. Prairie Fire is a story of friendship, music, alternative history (Canadian and U.S.), fantasy, fable, ecology, and epic heroism. Every dragon slayer must serve time with the Oil Watch which is basically the military for dragon slayers. Owen, Siobhan, and Sadie join the Oil Watch together. While Siobhan overcomes some setbacks, Owen continues to develop into a dragon slayer capable of any task. Due to their growing popularity, Siobhan and Owen are deployed to one of the coldest, dreariest, and most desolate places, Fort Calgary. It is here that Siobhan, Owen, Sadie, and their friends must band together to face off against one of the rarest and most terrifying dragon species, the Chinook. THOUGHTS: Siobhan McQuaid is responsible for "Uptown Funk" because Owen Thorskard is "too hot, hot damn, make a dragon wanna retire man" and is the hero Bonnie Tyler has been holding out for all these years. Prairie Fire is a story that defines friendship and reminds us why we allow Canada to remain a country. It is superbly written, heart wrenching, and heroic.
Fantasy  Graig Henshaw, Littlestown HS/ Maple Avenue MS
Wallach, Tommy. We All Looked Up. New York, NY: Simon & Schuster BFYR, 2015. 978-1-48141-877-5. 370 p. $16.99.  Gr. 9-12.
If we learned anything from The Breakfast Club and about a dozen other eighties movies, it is that high school is supposedly all about labels and cliques. The impending possibility of the end of the world provides an athlete, a slut, a slacker, and an overachiever with the opportunity to make changes. Peter, the athlete, must decide whether it is better to fail at something worthwhile or succeed at something meaningless, and whether or not he should pursue true love even if it isn't the popular thing to do. Eliza, the artsy and misunderstood slut, must deal with her father's cancer, chronicling the end of the world (leading to unexpected fame), and her feelings for Peter. Anita, the overachiever, needs to decide if she should follow her parents' strict rules as always, or if she should pursue her dream of becoming a musician. Lastly, Andy, the slacker, must choose between his new safe friends or his old seedy, dangerous friends. They only have two months until the end of the world. During the next two months, the world becomes far more dangerous as people often give in to their malicious intents. THOUGHTS: Although well-written, Tommy Wallach is pessimistic in his view of mankind since most of humanity turns into complete jerks with drug addicts and criminals ruling the day. Maybe I am naïve, but I like to think that if mankind were to find out that the world were about to end, we would band together rather than give into criminal instincts. In We All Looked Up, society falls apart based on whether an asteroid will hit and wipe out two-thirds of the population. The characters, with the exception of Eliza and Peter, are unlikeable. We All Looked Up had me desperately looking for another book to read and longing to watch The Breakfast Club.
Science Fiction  Graig Henshaw, Littlestown HS/ Maple Avenue MS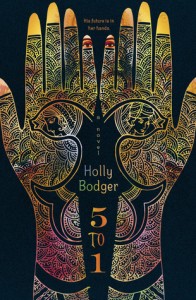 Bodger, Holly. 5 to 1. New York: Alfred A. Knopf, 2015. 978-0-385-39153-5. 244 p. $17.99. Gr. 9 and up.
Set in a futuristic Indian society run by women, this Dystopian fantasy focuses on a contest where the women get to select their husbands from a group of able suitors. The title refers to the ratio of boys to girls after years of gender selection. Sudasa is the lucky young lady who gets to choose her husband, but she doesn't even know if she wants to get married yet. Kiran is the young man who's family wants him to lose in order to escape India altogether. Her grandmother has thrown her cousin into the mix of suitors, so that Sudasa can save him from what her grandmother sees as certain death. Her cousin knows all the right answers; yet Sudasa is drawn to Kiran. Her father offers Sudasa support and a way out if she needs it. What will she choose? Will she pick the cousin and keep the family intact? Will she choose Kiran though she knows he is throwing all of the challenges in order to be discarded? This story told in alternating voices identified by verse and prose proves to be very different from the norm. THOUGHTS: This is a thought-provoking read because of some real world circumstances (India and China). The premise for the society doesn't seem that far-fetched. A great addition for HS collections as it offers something very fresh and new.
Dystopian    Kathryn Gilbride, North Pocono Middle School