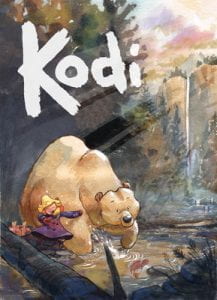 Cullum, Jared. Kodi. Top Shelf Productions. 2020. 978-1-603-09467-2. 176 p. $14.99. Grades 2-5.
While out on a walk near her grandmother's Alaska summer house, comics-loving Katya encounters an enormous kodiak bear with its leg pinned under a fallen tree. Working together, Katya and "Meema" free the bear and mend his wounded paw. Katya and Kodi become fast friends (and an expert fishing team), so both are crestfallen when she must return to Seattle. When Kodi sees a tourist with a Seattle t-shirt, he realizes that stowing away on a cruise ship will deliver him to Katya. But finding a small girl in a big city requires some help; enter a fisherman named Joshua, who forms his own unique bond with the bear. Jared Cullum's gorgeous watercolors portray a range of settings, emotions, and action with evocative style. Katya's vulnerability is evident in her big eyes and slight build; her strength shows in her artwork and steadfastness. Kodi is both comically oversized and brawny, but gentle. Joshua, disabled in a previous fishing accident, is clever and kind. Readers who fly through the pages to find out what happens next will want to re-read, pausing to admire the mountain streams, city skylines, and ocean waves.
THOUGHTS: This beautifully illustrated graphic novel for young readers is also an homage to the power of friendship and creativity. Don't miss this one!
Graphic Novel          Amy V. Pickett, Ridley SD