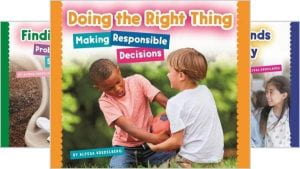 Krekelberg, Alyssa. Social and Emotional Learning. The Child's World, 2021. $228.00 (set of 12), $18.95 (individual titles). Grades K-3.
Doing the Right Thing: Making Responsible Decisions. 978-1-503-84450-6.
Finding Solutions: Problem Solving. 978-1-503-84451-3.
Helping Friends and Family: Taking Care of Others. 978-1-503-84449-0.
Know Your Feelings: Recognizing Emotions. 978-1-503-84452-0.
Let's Get Along: Resolving Conflict. 978-1-503-84458-2.
No One is the Same: Appreciating Differences. 978-1-503-84456-8.
Setting Boundaries: Learning about Healthy Relationships. 978-1-503-84457-5.
Stop and Think: Learning about Self-Discipline. 978-1-503-84448-3.
We Need Each Other: Being a Good Friend. 978-1-503-84447-6.
We Work Together: Learning about Teamwork. 978-1-503-84455-1.
When Things Get Tough: Overcoming Obstacles. 978-1-503-84454-4.
Worrying Too Much: Learning How to Manage Stress. 978-1-503-84453-7.

Social situations can be difficult for children; they do not have the social experiences that allow them to develop understanding of interpersonal communication and relationships. This SEL series helps children develop understanding of situations they may have encountered or will in the future. Each text is divided into chapters that begin with a vignette that explores a realistic situation and the emotions that are involved in it. Throughout the chapter, ideas on how to respond and questions for reflection are presented. The questions help children reflect on their own experiences and consider the feelings of others in the same situation.  Each text includes a glossary (words are highlighted throughout the text) and a section to learn more about the topic.
THOUGHTS: This is an excellent series for young children to explore their feelings through very realistic situations. The series includes 12 titles. This reviewer had the opportunity to two review Let's Get Along: Resolving Conflict and No One is the Same: Appreciating Differences. Each individual chapter can be used for character education and development and could easily be divided into short 15-20 minute lessons. This series is highly recommended for all elementary schools for use in the classroom and library especially in our current environment where students are lacking SEL and interpersonal skills due to more isolation from the pandemic.
Erin Bechdel, Beaver Area SD