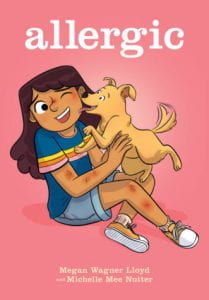 Lloyd, Megan Wagner. Allergic: A Graphic Novel. Illustrated by Michelle Mee Nutter. Graphix, 2021. 978-1-338-56891-2. 240 p. $24.99. Grades 3-6.
With younger twin brothers and a new baby on the way, Maggie feels alone in her loving family. She's convinced her parents, who are preoccupied with baby names and other preparations, to let her adopt a puppy that will be her own. Maggie has been looking forward to her tenth birthday for a long time, since this is the day she gets her perfect pet. At the animal shelter, however, Maggie breaks out into a severe rash, and she learns that she's allergic to anything with fur. So much for her puppy. Devastated, but determined to find the perfect pet, Maggie begins research, as she works her way through allergy shots and makes a new friend. Told in colorful graphic panels, readers will enjoy Maggie's attempts at finding a perfect pet and will appreciate her frustration when things go awry with her new friend.
THOUGHTS: Readers with any allergies, but especially those allergic to pets, will felt represented in this cute graphic novel. A great addition to elementary and middle grade collections.
Graphic Novel          Maryalice Bond, South Middleton SD
Maggie is feeling left out in her family. Her parents are focused on the new baby they are expecting, her twin brothers are always together and doing their own thing. She thinks a dog would be the perfect companion! But, when her family goes to pick out a dog for Maggie's birthday, they discover that she is very allergic to anything with fur! Maggie is devastated, but her new friend that moved in next door is helping to ease the disappointment. That is until her friend talks her dad into getting her own dog. Now, Maggie feels betrayed by the one person she thought understood her. Can Maggie survive allergy shots and make things right with her best friend?
THOUGHTS: Fans of Raina Telgemeier will love Allergic! A great addition to your graphic novel section.
Graphic Novel          Krista Fitzpatrick, PSLA Member