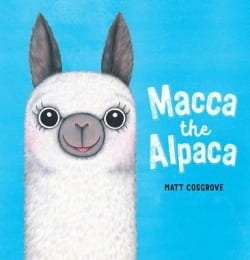 Cosgrove, Matt. Macca the Alpaca. Scholastic Press, 2020. $14.99. Pre-K. 978-1-338-60282-1. 
Loveable Macca is a happy alpaca until he meets a bully llama named Harmer. When the two face-off in a series of challenges to see who is the strongest, Macca uses wit to win each match until even Harmer has to admit that bigger doesn't always mean better. Macca gives an excellent lesson on how to be a friend with a hug at the end of the story. Brief rhyming text and bold colorful illustrations are perfect for repetitive reading to young listeners.
THOUGHTS: Friendship, bullying, and opposites are themes that run throughout, making this an excellent selection for preschool or kindergarten.
Board Book          Jackie Fulton, Mt. Lebanon SD