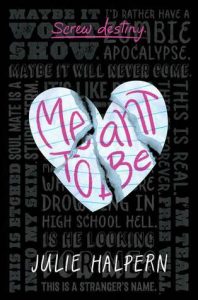 Halpern, Julie. Meant to Be. Feiwel & Friends, 2017. 978-1-250-09498-8. 320 p. $17.99. Gr. 10 and up.
When it comes to love, Agatha Abrams is disenchanted. Her parents' relationship didn't survive the MTBs (meant to be), and she firmly believes in free will and choices. Instead of jumping for joy and spending a lot of money to locate her meant to be (or even conducting an online search for him), Aggy rebels against the system. She is determined to fall in love on her own terms – when, where, and with whom she wants. Who more appropriate than Luke, they boy she's been crushing on for the past few years at her summer amusement park job.  Meanwhile, Aggy's best friend Lish has found her meant to be and fallen head over heels in love, and she's moving way too fast for Aggy! Aggy is begins to question the future she planned and wonders if anyone else feels the way she does.  THOUGHTS: Aggy isn't sure college is for her, and she fights against the norms of society, much like teenagers often do. I really wanted to like this book. I loved the idea of MTBs and a teen girl rebelling against society's new norm of finding one's soul mate; however, I wanted more. How could the "meant to be" phenomenon exist for years without more of an uprising? Many pre-existing relationships in the society crumble…did no one fight for the love they had? I wanted more answers. That said, I sometimes loved Aggie and her best friend complemented each other. Without giving too much away, I could have read a whole novel that started with the last few weeks in the book and skipped the whole summer fling. This book is definitely for a more mature audience, as the summer fling had casual, unsatisfying sex, fairly graphically described.
Romance/Science Fiction       Maryalice Bond, South Middleton SD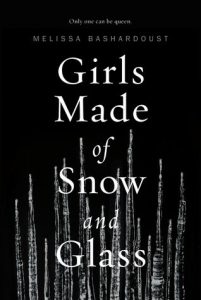 Bashardoust. Melissa. Girls Made of Snow and Glass. Flatiron Books, 2017.  978-1-250-07773-8. 375p. $18.99.  Gr. 7 and up.
Linet and Mina are both unusual girls who grew up without their biological mothers.  Their lives are intertwined in what could be a fight for a kingdom.  Told in alternating perspectives between Mina and Linet, the chapters are not chronological at first.  It took me some time to affirm my suspicion that this is a retold fairytale. Full of intrigue, secrets, lies, and magic, this story will keep the reader's interest.  It also explores the larger issues of family and the ability to love.  THOUGHTS:  This is Bashardoust's first novel.  I look forward to reading more of her work.  There is a same-sex romance where the only concern is that the love interest is a commoner.  For my liberal school, this is a great step forward.  
Fantasy (Fractured Fairytale)     Toni Vahlsing, Abington Friends School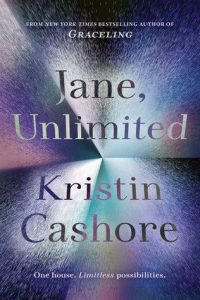 Cashore, Kristin. Jane Unlimited. Kathy Dawson Books, 2017. 978-0803741492. 464 p.  Grades 9 and up.
Devoted fans of Cashore's Graceling trilogy have eagerly awaited this new book.  Jane Unlimited is a marked departure from Cashore's successful series and is an ambitious and bizarre tale that presents the possibility of multi-verses and alternate realities.  Jane is a quiet, orphaned girl who recently lost her beloved Aunt Magnolia and is overcome with grief and indecision. When her former tutor, Kiran, invites Jane to travel with her to her family's fabulous island estate, Jane follows her aunt's advice: visit the Thrash estate, Tu Reviens, if she is ever given the chance. So off Jane goes, and there she meets a quirky cast of characters, among them Kiran's art collecting twin brother Ravi, family servants Patrick and Ivy, Lucy, the art theft investigator, a bloodhound named Jasper and several others. The story is retold in six possible realities which are presented in separate long chapters which begin as Jane makes a simple decision to follow one or another of the other people at the estate. Jane confronts alternate versions of the intrigues on the island which include art thievery, kidnapping, international espionage, and romance. Each chapter has a distinct style that ranges from mystery to thriller to sci-fi to fantasy and each chapter is more bizarre than the last.  THOUGHTS:  Jane, Unlimited is a challenging read with a creative and promising premise.  A few of the chapters are wonderfully realized, but some fall short with confusing details that make it difficult to suspend disbelief.  Recommended for more dedicated and intrepid readers, but it could be too confusing and circular for many students.
Fantasy       Nancy Summers, Abington School District