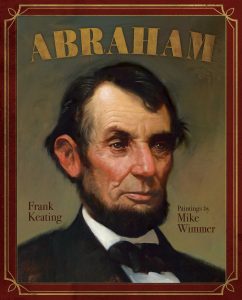 Keating, Frank.  Abraham.  Simon and Schuster Books for Young Children, 2017. 9781442493193. Unpaged.  $17.99.  Gr. 2-5.
This picture book biography about Abraham Lincoln is not so much a book that details all his accomplishments, but instead gives the reader insight into his character, aspirations and beliefs.  Keating begins by listing some of Lincoln's titles, such as "Honest Abe" and "Great Emancipator." He takes us from Lincoln's humble beginnings through his presidency, although his assassination is not mentioned. The author discusses how the president valued education and books and that honesty was a guiding principle in his life.  Lincoln's own quotations are peppered throughout the text.   Mike Wimmer's full bleed illustrations accompany each page of text and are done in oil on canvas.  His illustration of Lincoln's statue is stunning, as it appears to gleam in the sunlight.  The full text of the Gettysburg Address is included at the end.  In the author's note, Keating states that "Abraham Lincoln was an affirmation of the…call of the Declaration of Independence that all men were created equal."  The author includes a list of his resources.   THOUGHTS:  Although the book does not contain enough information for reports, this appealing biography works well as read aloud and will interest children who wish to know more about our sixteenth president.  This book is part of the Mount Rushmore Presidential series, which also includes Theodore and George.
Picture Book Biography           Denise Medwick, West Allegheny School District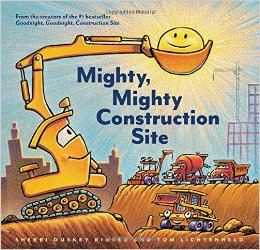 Rinker, Sherri Duskey. Mighty, Mighty Construction Site. Chronicle Books: 2017. 978-1-4521-5216-5. 32pp. $16.99. Gr K-3.
In this sequel to Goodnight, Goodnight, Construction Site, the heavy equipment trucks are back, and they're ready to tackle their largest project yet! Crane Truck, Dump Truck, Cement Mixer, Bulldozer, and Excavator see the blueprints for their newest project, and they know they're going to need some help. Cement Mixer honks his horn, and five new trucks come rolling down the road. With the help of Skid Steer, Backhoe, Flatbed Truck, Front-end Loader, and Pumper Truck, the crew pushes dirt, blasts rocks, digs trenches, lays pipes, lifts beams, delivers materials, hauls rubble, and pours foundations. Teamwork is the name of the game, and each truck has an important role to play in completing the project. Rhyming verse and colorful oil pastel illustrations ensure that this is a story construction-fans will return to again and again.   THOUGHTS:  This title will shine during a construction-themed storytime, and it can also be used to promote the benefits of teamwork.
Picture Book      Anne Bozievich, Southern York County SD
Roberts, Cokie. Ladies of Liberty: The Women Who Shaped Our Nation. Harper, 2017: 978-0-06-078005-0. 37pp. $17.99. Gr 3-6.
This title highlights female reformers, writers, activists, explorers, educators, and orators who made their mark during the late eighteenth and early nineteenth centuries. The collection features double-page spreads highlighting the accomplishments of ten women, including Lucy Terry Prince, Sacagawea, Martha Jefferson Randolph, Elizabeth Bayley Seton, Elizabeth Kortright Monroe, and Louisa Catherine Adams. Smaller biographical sketches also outline the contributions of women such as Eliza Hamilton, Lucretia Mott, Hannah Foster, and Margaret Dwight. Many of these women worked tirelessly to ensure the freedoms of all of our nation's people, including women, orphans, and people of diverse faiths, were protected. Sepia-toned pen and ink illustrations by Caldecott Honor-winner Diane Goode lend a period-touch to the pages. Although the information presented is not detailed enough for in-depth research, this book serves as an easily-accessible introduction to some of America's earliest feminists who strove to make our country a better place for all of its people.  THOUGHTS: This book can be used to in conjunction with American history units about the Founding Fathers and Westward Expansion. It can also serve as a jumping-off point for biographical projects centering around these diverse women. This is the sort of book that teachers could use to highlight one woman each week, or they could focus solely on one or two women who tie in to their current curricular study.
Nonfiction Picture Book     Anne Bozievich, Southern York County SD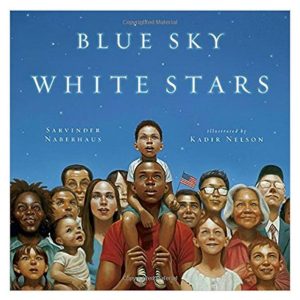 Naberhaus, Sarvinder and Kadir Nelson. Blue Sky White Stars. New York, NY: Dial for Young Readers, 2017. 978-0-8037-3700-6. $17.99. Unpaged. Gr. K-3.
Defining America in broad terms can be a challenge for adults as well as students. One symbol that inevitably brings us together is the stars and stripes of the USA flag. This book is a vision of inclusivity using the pieces of the flag to bring out a greater message of the whole country. Naberhaus uses subtle homophones like "Sew together Won nation" with "So together One nation." as well as phrases and homographs that carry dual meanings of importance. The ever skilled illustrations of Kadir Nelson bring the sparse words to life with diversity and patriotism. The parallels that this team bring to the work are relevant and rousing to our country's past, present, and future aspirations. THOUGHTS: The discussions that I look forward to having with students around this book are hopefully around the way text and illustration can partner to carry meaning. The connections that I hope students make are hopefully about diversity, unity, and acceptance in a time when we need to emphasize these traits more than ever. This timely book quickly captured my heart and head.
Picture Book     Dustin Brackbill, State College Area SD