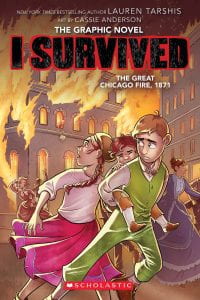 Tarshis, Lauren. I Survived the Great Chicago Fire, 1871. Scholastic, 2023.  978-1-338-82515-2. 158 p. $10.99. Grades 3-6. 
Eleven-year-old Oscar has only lived in Chicago for a few hours before he finds himself at the center of one of the deadliest fires in American history. Oscar never wanted to move to the big city, leaving his family farm behind, but when his mother remarries, she and Oscar relocate to Chicago to move in with his new stepfather. While still at the train station, Oscar's luggage is stolen, and as he tries to track down one of the thieves, he's separated from his family. Fire breaks out while he's finding his way back, and suddenly showers of sparks are everywhere. With fire crackling at every turn, Oscar's courage is put to the test as he struggles to find safety, and reconnect with his family, in an unfamiliar city. Backmatter includes a note from Lauren Tarshis as well as historical photographs and drawings of the way Chicago looked before the  Great Fire. 
THOUGHTS: The graphic novel format works well for telling this story, and the full-color panel illustrations effectively capture the chaos, confusion, and fear of Oscar and others as they navigate through the burning city on the evening of October 8, 1871. Hand this to fans of the original I Survived chapter books and to readers looking for plenty of fast-paced action. 
Graphic Novel