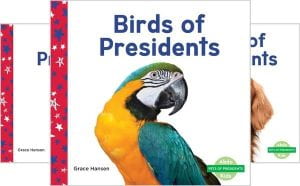 Hansen, Grace. Pets of Presidents. Abdo Kids, 2022. $21.95 ea. $131.70 set of 6. 24 p. Grades K-2. 
Birds of Presidents. 978-1-098-20923-0.
Cats of Presidents. 978-1-098-20924-7.
Dogs of Presidents. 978-1-098-20925-4.
Farm Pest of Presidents. 978-1-098-20926-1.
Horses of Presidents. 978-1-098-20927-9.
Unusual Pets of Presidents. 978-1-098-20928-5.
This series focuses on a unique part of presidential history – the pets of presidents and their families. Each two page spread features age appropriate text identifying the president and the pet(s) owned by their family. A historical image of the president (or family) is accompanied by a contemporary photo of the pet species they owned. This reviewer had an opportunity to read Birds of Presidents. While the overall book was very informative, the spread featuring the Teddy Roosevelt family and their macaw had text that simply mentioned "The Roosevelts" and a photo showing Teddy Roosevelt, Jr. with the macaw. It would have been clearer to the reader had the text indicated that "The Roosevelts" referred specifically to the Theodore Roosevelt family (since, after all, two Roosevelts have occupied the Oval Office). Each volume also features a picture glossary and a link to additional online resources. 
THOUGHTS: An interesting angle on presidential history that will appeal to both animal fans and history fans, this series is a worthwhile additional purchase for libraries looking to add to their presidential collections. 
973 American History          Elizabeth Henry, Lampeter-Strasburg SD