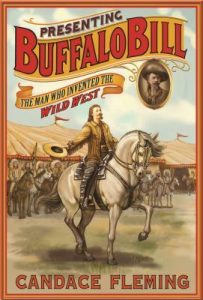 Fleming, Candace.  Presenting Buffalo Bill: The Man Who Invented the Wild West.  New York: Roaring Brook Press, 2016.  978-1-59643-763-0. 273 p.  $19.99.  Gr. 7 and up.
William "Buffalo Bill" Cody is perhaps the most famous figure of the "Wild West."  In this biography, Fleming examines the legendary figure and attempts to separate fact from myth.  According to Cody's own autobiography as well as the Wild West show he created, life on the American frontier was never dull; rather, it was full of gunfights, raids, racing horses, and skirmishes with Native Americans.  Although there was a great deal of violence in the West, this exciting image fabricated by Cody is not entirely true.  Comparing Cody's account of the Wild West to other primary source materials, Fleming attempts to address the inaccuracies. Beginning with his childhood, Fleming presents a thorough account of Cody's life up through his tours with his Wild West show and his death.  Complete with a bibliography, source notes, and period photographs, this compelling title gives readers an objective look at frontier life and the legendary figure known as Buffalo Bill.  THOUGHTS: This is an outstanding addition to any middle or high school U.S. history collection.  Not only does the fast-paced, story-like narrative keep the reader's attention, but I could see the book being used in the classroom in a variety of ways.  It provides an excellent introduction to important events, issues, and establishments in U.S. history, such as the Civil War, the Pony Express, Bleeding Kansas, slavery, and Native American relations.  I could also see it being used to introduce historical research.  Fleming's sidebars describing the inaccuracies in many of Cody's stories are intriguing and set the stage for additional research and debate.  A definite must-have for school library collections.
978 U.S. History; 92 Buffalo Bill Cody      Julie Ritter, Montoursville Area High School​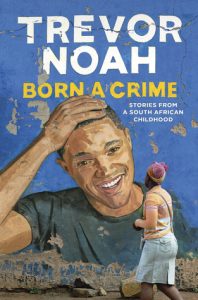 Noah, Trevor. Born a Crime: Stories from a South African Childhood. New York: Spiegel & Grau, 2016. 978-0399588174. 304 pp. $28.00. Gr. 10 and up.
Trevor Noah, best known as host of The Daily Show, delivers a memoir that's both moving and humorous. He's a comedian, after all!  Noah was "born a crime" in 1984 to his South African mother and Swiss-German father; under apartheid, their relationship and their son's very existence was illegal. Each chapter opens with a little background on the author's home country, including the mechanisms of apartheid, the role of language in South Africa, and the quagmire of racial identity in a former police state. Noah then relates youthful episodes, escapades, and misadventures, with his close relationship to his mother anchoring the entire narrative. The book's final and most gut-wrenching chapter chronicles his mother's marriage to an abusive man, which nearly ended in her murder. THOUGHTS: Trevor Noah is a popular TV personality, but this exceptionally well-written book demonstrates that he is also a gifted author.
Memoir     Amy Pickett, Ridley High School
Trevor Noah narrates Born a Crime on audiobook, and his gift for impressions and accents makes it a must-listen. Play the excerpt in which Noah gets his hair straightened for the first time, and I guarantee there will be a holds list for this book!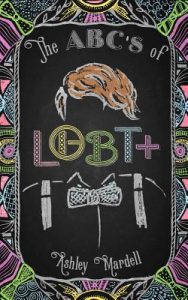 Mardell, Ashley. The ABC's of LGBT+. Mango Media, 2016. 978-1-63353-409-4. $16.95. 190 p. Gr. 6-12.
Popular blogger and YouTuber Ashley Mardell gives readers a crash course in LGBT+ terms, identities vocabulary, and labels. Designed for all, from novices to experts, Mardell starts off with a very thorough cheat sheet of terms used throughout the book which readers can refer to at any time. Readers then dive into informative and easy to understand chapters focused on spectrums, sex and gender, and sexual and romantic identities. Mardell successfully brings a voice to many LGBT+ identities that are not portrayed in mainstream media and offers personal anecdotes and drawings throughout to help engage the reader. THOUGHTS: An excellent nonfiction title that brings visibility and voices to all identities and strengthens the field of gender and sexual diversity.
306.76; Sexual Orientation; Gender identity     Vicki Schwoebel, Friends' Central School