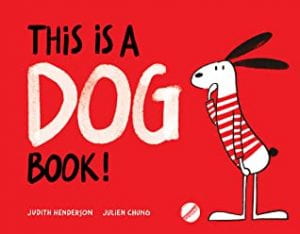 Henderson, Judith. This is a Dog Book! Julien Chung Ill. Kids Can Press, 2021. 978-1-525-30493-4. 40 p. $17.99. Grades PreK-2.
Bunny wants to be in this book, but it is a dog book, and bunny is not a dog. Bunny tries to convince the dogs that he is a dog by providing them with cookies and answering all of their dog questions. Bunny does everything the dogs ask of him except answer the "doo-doos" question which he successfully avoids until the end when he must pass the "sniff test". But that still isn't enough for all of the dogs. Finally, the big dog asks Bunny if he is a good friend. If he passes this test, Bunny might just make it into the dog book after all. 
THOUGHTS: This is a sweet story about acceptance and inclusion. The red shirt of Bunny against the black and white illustrations of the dogs highlight that he is indeed not a dog even though he can do all that the dogs do. This text is a great conversation starter for students to discuss inclusion and exclusion and how each makes one feel.  
Picture Book          Erin Bechdel, Beaver Area SD