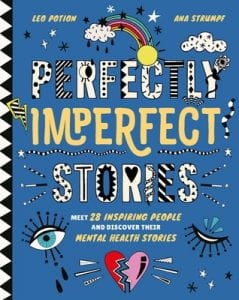 Potion, Leo. Perfectly Imperfect Stories : Meet 28 Inspiring People And Discover Their Mental Health Stories. Lawrence King Publishing, 2021. 978-1-786-27920-0. $17.99. 58 p. Grades 3-7. 
28 famous people, both historical figures of note and pop culture icons of the last few years, are highlighted in this book as a way to normalize the conversation around mental health issues. Each brief biography covers the background, struggle, and hopeful outcome of a person who has grappled in the past with conditions like eating disorders, panic attacks, PTSD, and depression. Quirky, colorful illustrations decorate almost every page, drawing in the reader and helping to lighten the overall mood of this important book. A brief but heartwarming forward, helpful back matter, and a detailed bibliography offer opportunities for students to explore further information about mental health, suicide prevention, and the stories of famous lives that may look perfect from the outside, but contain untold struggles on the inside.
THOUGHTS: This book delivers the powerful message that no one is too rich, popular, smart, or successful to be immune from mental health struggles, and does it in an appealing package that should draw in elementary and middle school level students. Pop culture figures do come in and out of style, but there are notable people from the past mentioned as well, giving this book more potential longevity. This could be a great leaping-off book for biography studies as well.
616.89 Mental Health Stories          Erin Faulkner, Cumberland Valley SD