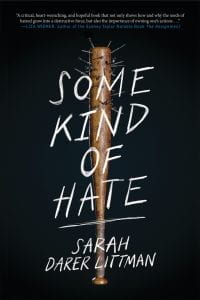 Littman, Sarah Darer. Some Kind of Hate. Scholastic Press, 2022. 978-1-338-74681-5. 336 p. $18.99. Grades 7-12.
Content Warning: "The contents include white nationalist ideas based on antisemitic conspiracy theories, Islamophobia, racism, misogyny, and violence."

Declan Taylor is at the top of his game – literally. His school baseball team just won the state tournament, and he was their star pitcher. If Declan just could figure out how to talk to his longtime crush, Megan, he would be set. When an attempt to impress Megan during an end of the school year celebration goes horribly wrong, Declan's summer plans derail. No more baseball means no future for Declan, at least not the future he was envisioning. Drowning in self-pity while the rest of his family is working long hours, Declan spends most of his day gaming. His baseball friends, including his best friend and longtime teammate Jake, are too busy with summer league and don't understand Declan's situation or his anger. Plus Jake seems to be spending more time with his friends from synagogue than worrying about how Declan is doing. With their family's finances crumbling, Declan is forced to get a summer job. Now he's spending more time away from home and with his co-workers. Finn and Charlie introduce Declan to a better way to escape the lack of acceptance from his family and friends. It's in the game world that Declan is able to avoid reality and find understanding: The world needs to wake up to the globalists who are tipping the scale in their favor and stealing opportunities from families like Declan's. Though his twin sister and baseball friends question some of the things Declan has been saying, Declan's anger surfaces and he writes them all off, opting to join his new friends in fighting back. Will Declan lose himself to his anger, or is there hope that he can crawl back and redeem himself?

THOUGHTS: Told in alternating chapters between Declan and Jake, this novel explores how, given the right conditions, one's hate can blossom. Haunting and at times difficult to read, this story will stay with readers and belongs in every YA collection. It would pair well as a modern tie-in to Night, To Kill a Mockingbird, and other classics that deal with social issues. Highly recommended.
Realistic Fiction          Maryalice Bond, South Middleton SD