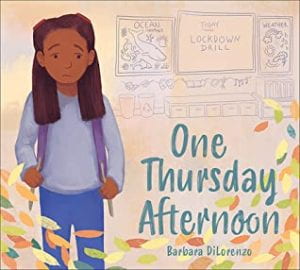 DiLorenzo, Barbara. One Thursday Afternoon. Flyaway Books, 2022. 978-1-974-88837-1. $18.00. 40 p. Grades K-3.
When Granddad picks Ava up after school on Thursday, she just wants to go home. She is having a bad day and would just like to be alone. Granddad suggests the two go for a picnic and to the woods to paint together. He promises not to talk so that the two can be alone together. Granddad drives to a nature trail, where he and Ava have a quick snack and then set up to paint. Granddad encourages Ava to use all of her senses before she uses her paintbrush. Ava takes time to be aware of the smells, sights, and sounds of the woods, and she finds herself suddenly overcome with emotion. She explains to Granddad that she is upset because her school practiced a lockdown drill today. Granddad listens patiently, gently acknowledges Ava's feelings, and admits that he too was scared of emergency drills when he was in school. As the two continue to paint and talk, Ava begins to feel better. Talking helped, as did being in nature, concentrating on her senses, and creating art. Throughout, Granddad provides an excellent example of how to be a good listener and how to approach discussing difficult and scary topics with young children. 
THOUGHTS: Simple and straightforward, this is a beautiful picture book that will be an excellent addition for school library Social-Emotional Learning collections. DiLorenzo is careful never to detail the specifics of the lockdown drill or the reasons schools have to practice them. Granddad only promises to listen and be present for Ava. A well-crafted story that models active listening and provides an excellent example of how to handle tough conversations with children who are anxious. 
Picture Book          Anne McKernan, Council Rock SD