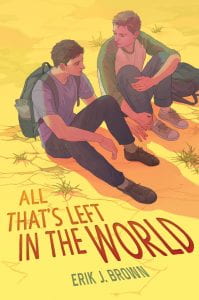 Brown, Erik J. All That's Left in the World. Balzer + Bray, 2022. 978-0-063-05497-4. 338 p. $19.99. Grades 9-12.
When 78% of the world's population has been decimated due to a superflu, and the world has headed in post-apocalyptic terrority, survival takes center stage in the lives of those remaining. Andrew decides that he needs to leave Connecticut on foot in order to settle a debt. He becomes injured and stumbles onto a remote cabin in the Pennsylvanian woods. This is where he meets Jamie. Jamie has been surviving on his own for many months, and he has not made contact with another human during this time. The two form a friendship, and their daily lives fall into a comfortable pattern until their sanctuary is threatened and the two must escape. They spend the next few months discovering just what has happened to the rest of the country.
THOUGHTS: This was a fast read. I thoroughly enjoyed the strong character development of both Jamie and Andrew as they discover their strengths and weaknesses as they fall in love in this broken world.
Science Fiction          Victoria Dziewulski, Plum Borough SD