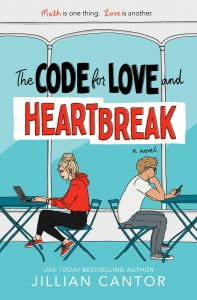 Cantor, Jillian. The Code for Love and Heartbreak. Inkyard Press, 2020. 978-335-09059-1. $18.99. 297 p. Grades 9 and up.
Emma Woodhouse thinks in numbers. For example, when her sister Izzy leaves for college all she can think about is the 2,764 miles that will be between them now while she's at UCLA with her boyfriend, John. As she packs to leave, Izzy implores Emma to be more social in her senior year, maybe even get a boyfriend. Emma scoffs at this ridiculous idea, though, and decides just to focus on winning the New Jersey state coding competition with John's younger brother and her friend George. With her coding skills, George's graphic design and animation skills, and their senior leadership as co-captains, they think they have a real shot. Stanford would definitely take her seriously with that state championship on her resume. But even Ms. Taylor, her guidance counselor and coding club advisor suggests that Emma find more "social" activities to put on her resume because grades and coding club accolades won't make her stand out at Stanford where thousands of brainy computer nerds apply. George wants to create a recycling app for the competition, but Emma decides she can accomplish both of her resume goals – win the state championship and do something more social – if they develop a unique dating app, one that mathematically pairs users with their perfect match right at their own school. It's perfect – Emma can play matchmaker for all the school dances without actually going on dates herself in order to check off that "social" box on her resume, win the state coding competition, and ride off into the sunset at Stanford. "Numbers don't play games," as Emma explains, so what could go wrong, right?
THOUGHTS: Based on Jane Austen's classic Emma, this book definitely fills a specific need in YA collections. Reluctant readers who are more into math and science will find this lighthearted romance enjoyable. Also recommended for students looking for a PG-rated romance with no cursing or sex, aside from an instance of some boys who try to use the dating app for the wrong reasons.
Realistic Fiction          Sarah Strouse, Nazareth Area SD