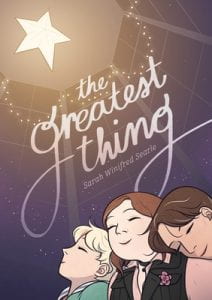 Searle, Sarah Winifred. The Greatest Thing. First Second, 2022. 978-1-250-29722-8. 352 p. $25.99. Grades 7-10.
Winifred begins her sophomore year of high school feeling very alone after her two best friends transfer to a private school. She reconnects with an old friend, Mathilda "Tilly" Martel, and makes fast friends with April and Oscar, two students whose photography class overlaps with Win's independent study period. The trio bonds over music, pop culture, and especially creating a limited edition zine together. Despite these positives, Win wrestles with deep anxiety, self-esteem and body image issues, and disordered eating. For example, she's lactose intolerant but indulges in ice cream to punish herself for enjoying food. She also struggles with an emerging crush on Tilly … or maybe Oscar? … and wonders if "a relationship would fill the hole that ache[s] in my chest all the time." When Win's self-loathing spirals into self-harm, her guidance counselor steps in and recommends professional help. This thoughtful, sensitive graphic novel features softly shaded artwork (created in Clip Studio Paint) that complements Win's moods and emotions. In particular, the red-tinted darkroom provides a safe space for Win, April, and Oscar to reveal their vulnerabilities.
THOUGHTS: There is so much to savor in The Greatest Thing. Readers will embrace Win's exploration of her identity, her relationships, and her artwork. Potentially triggering content is handled with great care, and Sarah Winifred Searle includes a list of resources at the close of the book.
Graphic Novel          Amy V. Pickett, Ridley SD