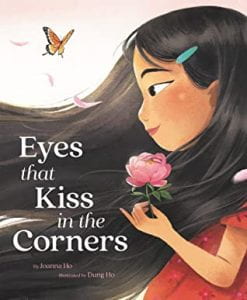 Ho, Joanna. Eyes that Kiss in the Corners. Harper Collins for Children, 2021. 978-0-062-91562-7 40 p. $17.99. Grades K-3. 
This is a heartfelt and breathtaking portrait of a young Asian girl drawing strength from the women in her family. In the story, a girl notices that her eyes seem different from her friends'. Most of the friends have "big round eyes and long lashes"; where she has eyes that "kiss in the corners and glow like warm tea." With pride and confidence, the girl shares with the reader that her eyes resemble her mother's, her amah's, and her little sister's! With each turn of the page, the girl (and the reader) learn less about physical appearances and more about the legacy of family, relationships, history, and heritage. Eyes that Kiss in the Corners is a vibrant celebration of self-discovery and love! The brilliant illustrations and poetic words will resonate with readers of any age.
THOUGHTS: Eyes that Kiss in the Corners is a must-have picture book for home, classrooms, and school libraries! I appreciate that there is no bullying, teasing, or conflict with the characters in the story. Instead this title is written as a lyrical celebration with a tender message: to love oneself.
Picture Book          Marie Mengel, Reading SD