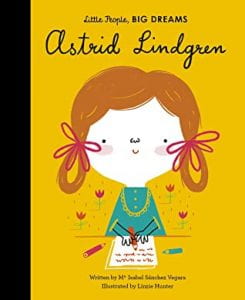 Sanchez Vegara, Maria Isabel. Astrid Lindgren. (Little People, Big Dreams). Frances Lincoln Children's Books, 2020. 978-0-711-25217-2. $15.99 ea. $912.26 set of 66. Unpaged. Grades K-3. 
Astrid Lindgren grew up on a farm in Sweden with her parents and siblings having an idyllic childhood. When she learned to read, however, her world changed and opened up beyond her small farm in Sweden. The book follows Astrid as she grows up and gets married and has children of her own.  Karin, Astrid's daughter, asked for a story about a girl she had named Pippi Longstocking, and Astrid's career as an author began! At the end of the book, there is a timeline of Astrid Lindgren's life including pictures from her life, and more information about Astrid's life.
THOUGHTS: This is a great introductory biography that is a must have for an elementary school collection, especially with the wide range of biographies to pick from in the series.
Biography          Mary Hyson, Lehigh Valley Regional Charter Academy