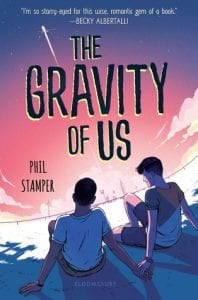 Stamper, Phil. The Gravity of Us. Bloomsbury YA, 2020. 978-1-547-60014-4. 320 p. $17.99. Grades 9-12.
Everyone's lives are more visible to others than they used to be. Cal Lewis knows that best because he is always live streaming news and weekend updates from his homebase in Brooklyn. His life gets viewed from a different angle when his dad is selected as the final candidate for NASA's Mars exploration project that is highly covered by a reality television company. From leaving his best friend at a critical time to meeting other AstroKids while continuing to cultivate media communication plans for his own content and others, this sweet story is representative and hits on woes of being a 21st century teen. Stamper does a fantastic job of illustrating why Mars exploration is an important endeavor, whether publicly or privately funded.
THOUGHTS: If you have room on your coming of age shelf, this is a great addition for your space nerds, LBGTQ+ community, and anyone who is looking for a fresh take on being a teen in the roaring 2020s.
Realistic Fiction          Samantha Hull, Ephrata Area SD