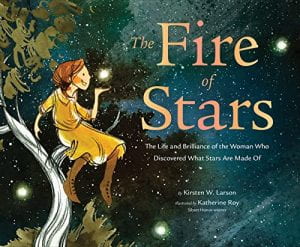 Larson, Kirsten W. The Fire of Stars: The Life and Brilliance of the Woman Who Discovered What Stars Are Made Of. Illustrated by Katherine Roy. Chronicle Books, 2023. 978-1-452-17287-3. $18.99. 48 p. Grades 2-5.
Cecilia Payne was born in Wendover, England in 1900. As a young girl she would spend hours outdoors studying nature. She was endlessly fascinated by insects, plants, and animals. In 1912 her family moved to London so that her brother could receive a proper education. Cecilia was sent to a religious school for girls. There were no science classes, and there was no opportunity to spend time with nature in the busy city. Then Cecilia discovered a science lab meant for older students. She would sneak into this lab to read the textbooks and work with the chemicals to educate herself in chemistry. When a new science teacher was brought to her school, Cecilia was encouraged to study and learn all she could about science. Cecilia earned a scholarship to study botany at Cambridge University. One day she heard a lecture by a famous astrophysicist. Fascinated, Cecilia attempted to change her major, but she wasn't allowed to. She decided to move to the United States where she was accepted into the astronomy program at Harvard College Observatory. While at Harvard, Cecelia discovered that stars are made of hydrogen and helium. Author's notes include a timeline, bibliographic references and an explanation of star development that is easy to understand.
THOUGHTS: Cecilia Payne is not well known to most children. Her research laid the groundwork for modern astrophysics. This picture book biography compares Cecilia's journey to becoming a scientist with the physical creation of a star. The gentle story, combined with pencil and walnut ink illustrations by Katherine Roy, makes an inspiring biography.
Biography
Picture Book