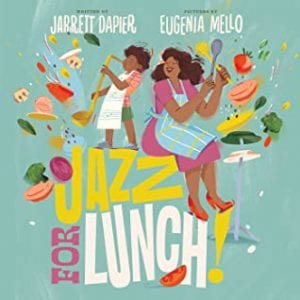 Dapier, Jarrett. Jazz for Lunch! Atheneum Books for Young Readers. 978-1-534-45408-8. 40 p. $17.99. Grades K-3.
Built on the foundations of jazz music and creative cooking, this rhyming story vividly depicts the power both music and food have to bring people together. A young boy and his aunt set out to have lunch at a jazz club where his aunt is a regular. In the club, the sounds from the kitchen mix with the sounds from the stage, creating a vibrant, animated atmosphere. But, the club is so crowded that the boy and his aunt can't get close enough to see the performers or place an order. They leave early, stop by a produce stand, and the next day, they cook up their own jazzy lunch at home. Each dish is inspired by jazz greats, including Billie Holiday, Nat King Cole, John Coltrane, and Ella Fitzgerald. End papers feature brief biographies of 20 jazz greats mentioned in the story as well one of their album titles. The lively digital illustrations capture the movement and the emotions the food and the music inspire.
THOUGHTS: Share this title with music teachers who can make curricular connections with the featured jazz musicians and the music vocabulary sprinkled in the text. Music and ELA teachers will also appreciate the use of onomatopoeia as the boy and his aunt cook up their feast. This exuberant book captures the joy of coming together to enjoy great food and great music.
Picture Book          Anne Bozievich, Southern York County SD