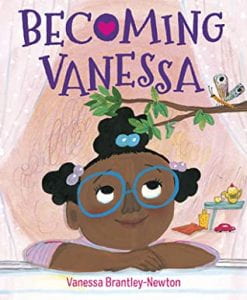 Brantley-Newton, Vanessa. Becoming Vanessa. Knopf Books for Young Readers, 2021. 978-0-525-58212-0 p. 40. $17.95. Grades K-3. 
The first day of school still gives most of us butterflies in our stomachs. We most likely remember the anticipation, the excitement, and the desire to put our best face forward in making a good impression. Vanessa, the main character in Becoming Vanessa, written by Vanessa Brantley-Hewton, feels all of these emotions on her first day of school as well. Vanessa puts on her fanciest outfit and her best smile for her first day of meeting her new classmates; however, she receives the attention she wasn't expecting. Vanessa definitely stands out and begins to feel that her clothes are too bright, her boa has too many feathers, and her shoes are too shiny. Her classmates don't seem to appreciate her bold outfit choice as much as she was hoping. Vanessa's self-confidence begins to dwindle, and she begins to believe that she should blend in with her classmates and not stand out. 
After a tough day at school, Vanessa has a conversation with her mother that helps rebuild her confidence and gives her a new perspective on how to be herself AND share her fabulous self with others. Becoming Vanesa is inspired by the author's real childhood and is full of self-love. 
THOUGHTS: Vanessa Brantley- Newton has become a favorite author (and illustrator too!) of mine! She is the author and illustrator of Grandma's Purse and Just Like Me, two other fabulous picture books for young readers. Her stories burst with positivity by lifting up young girls around the world with her stories and placing girls of color at the center of the story. I cannot wait for more beautiful work from her! 
Picture Book          Marie Mengel, Reading SD