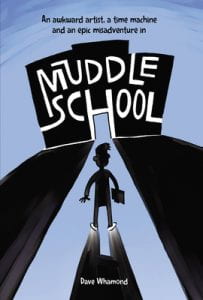 Whamond, Dave. Muddle School. Kids Can Press, 2021. 978-1-525-30486-6. $15.99. 144 p. Grades 5-8.
This semi-autobiographical graphic novel follows Dave, a self-proclaimed nerd, through an eventful year of his "Muddle School" journey. Dave's school experiences swing from the lowest lows, including getting pushed into mud by bullies on the first day of school, to the highest highs, as he kisses his crush at the end-of-the-year dance. He and his lab partner Chad even design a time machine for the science fair, which Daniel tries to use to go back and redo his disastrous first few months of typical middle school blunders. Throughout the book, Dave learns that being authentic, standing up for others and taking risks are the best ways to survive Muddle School.
THOUGHTS: The illustrations, jokes and silly situations that appear in this book are a wonderful glimpse into the mind of a middle school boy. Dave shows true fondness for his family, hates bullies but feels helpless against them, and uses his love of drawing to help himself process his feelings; everything feels authentic, if a little sanitized, to the school experiences of teen and tween-agers today. In the brief back-matter pages, it is delightful to find out that many of the things the author includes in the story actually happened! Many middle school students will be able to relate to this book and find humor and comfort in the life of another awkward boy just trying to make his way through Muddle School.
Graphic Novel          Erin Faulkner, Cumberland Valley SD