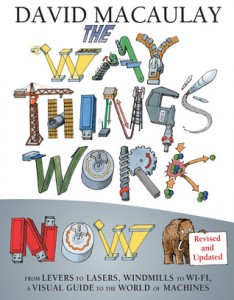 Macauly, David. The Way Things Work Now: From Levers to Lasers, Windmills to Wi-Fi, A Visual Guide to the World of Machines. Boston: Houghton Mifflin Harcourt, 2016.  978-0-544-82438-6. 400 p. $35.00. Gr. 3-8.
Technology has changed considerably since the first edition of Macauley's best- selling classic The Way Things Work was published in 1988. This newest update is rife with the classic and beautiful illustrations and cutaways that are his hallmark. The wooly mammoth is back again and many of the entries are the same or only slightly revised from the previous editions.  Macauley's clear and concise prose provides explanations of the most notable inventions and technologies and the scientific principles that link many of mankind's greatest achievements. The clever puns and jokes are still there and the illustrations are noticeably more vibrant.  THOUGHTS: This edition includes dozens of new entries on the many developments of our digital age including the World Wide Web, smartphones and hybrid cars, which make this update a welcome and necessary addition to every elementary and middle school library; heck high schoolers will appreciate it as well.  
600; Technology     Nancy Summers, Abington SHS
Sweet, Melissa. Some Writer! The Story of E. B. White. Boston: Houghton Mifflin Harcourt, 2016. 978-0544319592. $18.99. 161pp. Gr. 3-6.
Perennial favorite children's author E. B. White's life and career are reviewed in this charming bio by Caldecott Honor winning author, Melissa Sweet.  Beautifully designed pages with gorgeous illustrations, photographs and collages reveal his charmed life, his treasured childhood memories, his happy marriage, his lifelong love of nature and animals and his gift for writing. Sweet blends White's own words from his classic tales and his personal correspondences into her well researched and inspiring tribute. Young and old fans alike will enjoy reading about his retreat in Maine, which served as an inspiration for his best loved work, Charlotte's Web. The book includes an afterword by the author's granddaughter, a timeline, an bibliography and an index. THOUGHTS: A delightful biography of a beloved American wordsmith and a recommended title for elementary libraries. Terrific!
Biography      Nancy Summers, Abington SHS