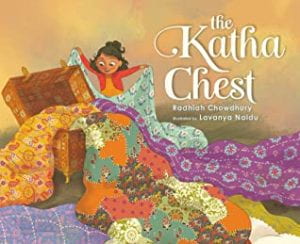 Chowdhury, Radhiah. The Katha Chest. Salaam Reads, 2022. 978-1-665-90390-5. Unpaged. $17.99. Grades K-2.
The Katha Chest follows a young girl named Asiya who loves to visit her Nanu's house because she gets a chance to go through the katha chest. Each quilt tells a story, and Asiya loves learning about her family in this way. The illustrations are beautifully done, and when Asiya is looking at each quilt there is a spread of pages that just show the woman from the family who is attached to each quilt. On those pages, the illustrations demonstrate and show more about each woman from the family without having any words to describe them. At the end of the book, there are both author and illustrator notes delving more into the katha chest and what that means to each of them. 
THOUGHTS: This book is a beautifully done story about the katha chest, as well as what each woman in Asiya's family means to her. A great story for a read aloud that will cause readers to want to know more about this skill of making the katha quilts.
Picture Book           Mary McEndree, Lehigh Valley Regional Charter Academy
Tags: Quilts, family, grandmothers, mothers, authors, Bangladesh, saris.