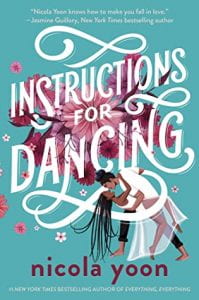 Yoon, Nicola. Instructions for Dancing. Delacorte Press, 2021. 978-0-593-43494-9. 285 p. $19.99. Grades 9-12.
Ever since her parents split up, Yvette ("Evie") hasn't found romance novels quite as magical anymore. She sees through the happily ever after to the true equation of every love story: "Heartbreak = love + time." While donating a stack of previously beloved books to a Little Free Library near her L.A. apartment building, Evie finds a book called Instructions for Dancing. Returning home with the book, she sees her younger sister Danica and her boyfriend kissing on the stoop and has a vision of the couple's love story, including how it began and how it will end. Later that night, Evie realizes that her premonition of Danica's break-up came true, and it's the first of many such visions. Pinning her new ability to the secondhand book in her backpack, Evie follows its instructions to return it to a dancing school in La Brea. There, she meets (charming, attractive, talented, and tall) Xavier, or X, whose grandparents own the studio. With a little nudge, in hopes of boosting business, the pair enter the L.A. Danceball competition, Amateur Under 21 category. Genuine feelings develop as Evie and X master elements of ballroom including footwork, artistry, showmanship, and chemistry. But can Evie truly open her heart to love when she knows that it will inevitably end?
THOUGHTS: Nicola Yoon's latest promises (and skillfully delivers) romance, ballroom dancing, a hint of magic, and one girl's quest to answer that age-old question: is love worth the risk?
Romance          Amy V. Pickett, Ridley SD