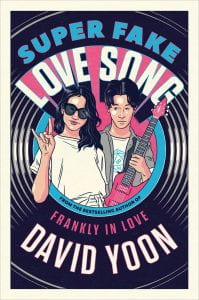 Yoon, David. Super Fake Love Song. G.P. Putnam & Sons, 2020. 978-1-984-81223-0. $18.99. Grades 9-12.
Asian-American Sunny Dae is a nerd, into Dungeons and Dragons with his best buddies, Jamal and Milo and anticipating multiple followers when they broadcast an interview with the much admired Lady Lashblade. Then he meets Cirrus Soh, the daughter of a Japanese couple who do business with his own workaholic parents. To impress Cirrus, he takes on the persona of his rocker-brother, Gray. His older brother has returned from his Hollywood pursuit for fame with his tail between his legs. Depressed and disillusioned, Gray succumbs himself to his basement room only to be drawn out to mentor the fledgling band Sunny and his pals have formed as they rehearse for the annual high school talent show. As Sunny's feelings for Cirrus deepen, he becomes more conflicted about his duplicity: he is pretending to be a rocker and gaining Cirrus's admiration and the longer he pretends, the more he likes the confidence and attention he is getting from others, including Gunner, his former bully.  When the day for the show comes, the Immortals pull it off, until a drunk Gray interferes. Author David Yoon has a knack for clever dialogue. His narrator, Sunny, weaves DnD references with contemporary situations that are fun for teens. Sunny is wealthy and lives in a posh area of Rancho Ruby in California. Though he is intelligent and good-looking, he still deals with insecurities and feelings of being a loser. However, the charmed life he leads refutes that claim. For those looking for a light romance enhanced by good writing, Super Fake Love Song may be just the thing.
THOUGHTS: Dungeons and Dragons fans will appreciate Sunny's obsession. Romance fans will like the different male perspective. Though the genre is realistic fiction, the circumstances and events that occur in this book are fantasy to many of the teens who may pick up this book. In one section Sunny gives his take on the extravagant party Cirrus throws when her parents leave her home alone: "Such phenomena occurred solely on insipid television shows written by middle-aged hacks eager to cash in on the young adult demographic" (224). This comment may be a prediction for Super Fake Love Song.
Realistic Fiction/Romance          Bernadette Cooke, School District of Philadelphia