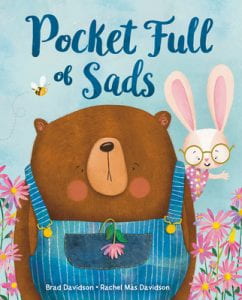 Davidson, Brad. Pocket Full of Sads. Illustrated by Rachel Mas Davidson. Rodale Kids, 2023. 978-0-593-56456-1. Unpaged. $18.99. Grades K-2.

For no specific reason, Bear's "heart feels heavy / like [his] pocket's full of sads." It is hard to explain. A physical ailment isn't the cause. It's more like how one would feel if a brand new toy broke or a friend chose to sit with someone else. Rabbit is determined to fix Bear, but it isn't as simple as telling a  funny joke or using the internet for an answer. Finally, things become too hard. Will Rabbit fix Bear's pocket full of sads, so they can go fishing, or will this be one feeling that's too big to fix?
THOUGHTS: Davidson's story is perfect for morning meetings or a counseling/Social Emotional Learning lesson.  Told in a simple, gentle manner, young learners will understand how little things can cause big emotions. Rachel Mas Davidson's colorful illustrations add brightness and hope to a book about facing sadness. Highly recommended.
Picture Book