Keating, Jess. Shark Lady: The True Story of How Eugenie Clark Became the Ocean's Most Fearless Scientist.  Sourcebooks Jabberwocky, 2017.  9781492642046. Unpaged. $17.99. Gr. K-3.
This is the fascinating story of the scientist Eugenie Clark, who is better known as the "Shark Lady." Keating begins with a look at Eugenie as a child, who even then showed an interest in this marine animal. We see her visiting an aquarium, diving into the ocean at Atlantic City, gazing at her own small aquarium, and sitting in a library reading books about different species of sharks.  While in college, the reader learns that some professors discouraged Eugenie from pursuing a career in marine biology, but she achieved her dream in spite of this. Clark's career began in a laboratory, but she was eager to "make her own discoveries" and began diving in the ocean to continue her research. The reader sees the illustrations of three fish species that Eugenie discovered.  Clark wanted to prove that sharks were intelligent creatures and became the first scientist to train one to receive food by pushing a bell.  The illustrations by Marta Álvarez Miguéns are engaging and give the reader an insight into what the scientist is thinking. On a two page spread where Eugenie is pretending that she is walking underwater at the aquarium, the illustrator draws fish swimming within its rooms and darting out from behind columns.  Fish also appear in the library scene when she is reading books. One small problem is the description of the underwater scene at Atlantic City because it is doubtful that the water was as clear as pictured and described.  Still, readers will enjoy poring over the drawings, especially the one of the giant jaws. The back matter includes a timeline of Clark's life and interesting facts about sharks are found on a page called "Shark Bites." The author's note gives some further details about Clark's life and the Mote Marine Research Laboratory where she worked.  Thoughts: This picture book biography should be added to every elementary collection and not just because shark books are always in high demand by young students. Keating's book contains an important message in that it shows children that they should not be discouraged from following their dreams.  However, the author also makes it clear that following a dream takes hard work and study.  This book is an inspiration to future marine biologists and is a great choice for any child who is curious about sharks.
Picture Book Biography             Denise Medwick, West Allegheny SD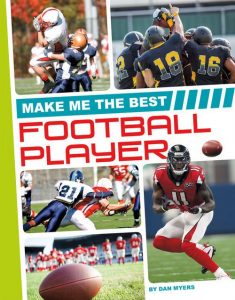 Make Me the Best Athlete. Abdo, 2017. $22.95ea. $183.60 set of 8. 48p. Gr. 4-6.
Ackerman, Jon. Make Me the Best Volleyball Player. 978-1-680-78492-3.
Graves, Will. Make Me the Best Basketball Player. 978-1-6807-8487-9.
Kortemeier, Todd. Make Me the Best Baseball Player. 978-1-6807-8486-2.
Kortemeier, Todd. Make Me the Best Hockey Player. 978-1-6807-8489-3.
Kortemeier, Todd. Make Me the Best Soccer Player. 978-1-6807-8491-6.
Myers, Jess. Make Me the Best Lacrosse Player. 978-1-6807-8490-9.
Myers, Dan. Make Me the Best Football Player. 978-1-6807-8488-6.
Stone, Ken. Make Me the Best at Track and Field. 978-1-6807-8485-5.
The Make Me the Best Athlete series introduces readers to various drills/tips they can use to improve their skills in specific sports. Each title features chapters that focus on a single skill and a representative player that exemplifies that skill. For example, the Make Me the Best Football Player volume features chapters titled "Pass Like Aaron Rodgers" and "Catch Like Julio Jones." Each chapter provides a brief biographical sketch of the featured athlete as well as discussion about the importance of developing skills in order to play the player's position. Specific tips and drills are presented that readers can use to help them improve their personal play. THOUGHTS: These volumes are clearly organized, make good use of photos, and feature popular and contemporary athletes (older athletes are also spotlighted in boxes throughout the text). The drills are clearly explained and require only basic equipment any player of the sport under discussion would own. Recommend to athletes looking to improve their play.
796 Sports      Elizabeth Henry, Lampeter-Strasburg SD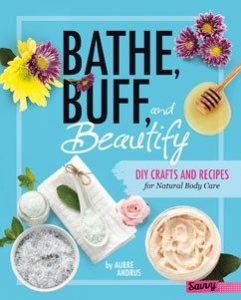 Andrus, Aubre. DIY Day Spa. Capstone, 2017. $23.49ea. $93.96 set of 4. 48p. Gr. 4-8.
Bathe, Buff, and Beautify: DIY Crafts and Recipes for Natural Body Care. 978-1-5157-3446-8.
Gloss, Floss, and Wash: DIY Crafts and Recipes for a Fresh Face and Teeth.
978-1-5157-3447-5.
Lotions, Potions, and Polish: DIY Crafts and Recipes for Hands, Nails, and Feet.
978-1-5157-3445-1.
Spray, Smooth, and Shampoo: DIY Crafts and Recipes for Healthy Hair.
978-1-5157-3444-4.
Designed with the tween beauty market in mind, the DIY Day Spa set offers readers a variety of recipes for homemade spa products and instructions for related crafts. All recipes use natural ingredients such as essential oils, honey, spices, oats, lemon, etc. Most recipes contain 3-7 ingredients, most of which can be found in grocery or health food stores and online. Recipes are clearly explained and safety tips are included to make sure products are stored and used properly.  Examples of recipes in the Bathe, Buff, and Beautify volume include Mocha Salt Scrub, Cinnamon Vanilla Whipped Body Butter and Sweet Dreams Cream. Each volume also contains related craft projects to accompany the spa products. Examples of craft projects include a shower pouf, a spa towel wrap, and homemade gift wrap. THOUGHTS: Students who are fans of beauty products will be fans of this series. Recipies are relatively simple and contain commonly acquirable ingredients. Perfect for creating gifts for family or friends, or a great activity for sleepovers or scouting groups.
615; 646 Beauty      Elizabeth Henry, Lampeter-Strasburg SD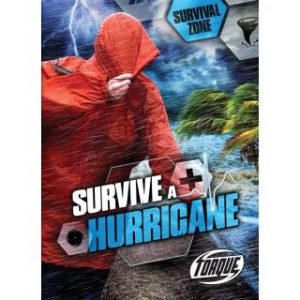 Perish, Patrick. Survival Zone. Bellwether, 2017. $19.95ea. $239.40 set of 12. 24p. Gr. 3-7.
Survive a Blizzard. 978-1626174412
Survive a Fire. 978-1626175815.
Survive a Flood. 978-1626174429.
Survive a Hurricane. 978-1626174436
Survive a Plane Crash. 978-1626175822.
Survive a Tornado. 978-1626174443.
Survive a Tsunami. 978-1626174450.
Survive an Avalanche. 978-1626175839.
Survive an Earthquake. 978-1626175846.
Survive in the Mountains. 978-1626174467.
Survive in the Woods. 978-1626174474.
Survive on a Desert Island. 978-1626174481.
Each volume of this exciting series opens with a real-life situation in which a person (often a tween or teen) faces a specific potentially life-threatening disaster and survives. Readers will learn about how each disaster develops. The importance of preparation in advance of natural disasters are stressed and specific survival strategies and tips are also described. The text is enhanced by numerous photos, diagrams, and text boxes. THOUGHTS: This series is an engaging page-turner that will interest many readers. Concepts are clearly explained and the survival tips/strategies presented are practical and could be employed by students of all ages. Would be a great non-fiction option for fans of Lauren Tarshis' I Survived series.
600s Technology      Elizabeth Henry, Lampeter-Strasburg SD